Whether it's hiking Bald Mountain, kayaking on First Lake, or just relaxing by the fire at their Old Forge camp, Eve Van de Wal, who resides in Oneida County, has found that being outdoors in nature does her mind and body good.
"Just a walk, a hike, or snowshoeing at a leisurely pace is amazing exercise," she explained. "You don't even feel like you are working out because it's so beautiful and so enjoyable."
There are many aspects of a healthy lifestyle that you can include and promote by simply stepping outside.
Get Busy Relaxing
For Eve, her husband, Dale, and their family, escaping into the Adirondacks to enjoy the benefits of nature has been a family affair. It started for Eve when she was a young girl born and raised in the Utica area.
The tradition of visiting the mountains, forests, and streams in the Adirondacks, with its vibrant blend of public and private lands, created wonderful memories for the Van de Wals as they enjoy all that nature has to offer.
This slideshow requires JavaScript.
"There is never a time that we are bored or can't find something to appreciate outside when we are there. We keep busy with the boat, fishing, walks, hikes… but it's a busy that always feels relaxing," she explained.
Nature for Stress Management
In fact, the Adirondack High Peaks and hundreds of miles of diverse waterways have had such a positive impact on Eve that she has also noticed an improvement to her physical health.
"I have high blood pressure and try to take care of myself, and stress management is part of it. I never feel like I am stressed, but as soon as I get in my car and head to Old Forge, I can feel a difference in my overall wellbeing with the tension relaxing in my neck and shoulders." Eve explained. "The time I spend hiking or just relaxing outside with a book is something beneficial that I do for myself without even realizing it."
Research supports exactly what Eve and her family have experienced, said Amanda Shanahan, RD, Employee Wellbeing Manager, Excellus BlueCross BlueShield.
"Contact with nature recharges our brain allowing us to better cope with the stresses of life," Amanda said. "Our brains and bodies are often overtaxed with the everyday demands of modern life. Our brains don't have to work the same way to pay attention to nature which allows time for restoration. The result can mean improved mood, creativity, concentration and stress relief."
Other benefits of being outdoors:
Protect your bones – Sunlight hitting the skin eventually leads to the creation of vitamin D in your body.  Something we all need to protect us against osteoporosis and other diseases. Just 10 – 15 minutes a few times a week with the sun hitting your arms and legs is all that is needed.  If you're going to be out longer, put on the sunscreen!
Age gracefully – Older people that get out every day stay healthy and functioning longer.  Studies have shown that those who have contact with nature have fewer complaints of aches and sleep issues along with other health-related problems.
Enjoying the Outdoors with Care
While busy enjoying the benefits of the sunshine and fresh air, Eve said she is always mindful that there are dangers to keep in mind. She said it's important to follow certain preventive measures.
"It's important to take steps to prevent diseases associated with the outdoors like Lyme Disease and skin cancer," she said.
The US Centers for Disease Control and Prevention (CDC) reports that, in 2018, New York state had close to 2,500 confirmed Lyme disease cases. Lyme disease is a bacterial disease transmitted by an infected tick. When caught early, Lyme disease can be treated with antibiotics. The best way to fight tick-borne illnesses is by preventing them in the first place. Dr. Nicholas Massa, medical director at Excellus BlueCross BlueShield, offers these simple, yet effective, tips to avoid getting this disease:
Wear long sleeves and pants outdoors
Use insect repellent
Check everyone, including pets, when you return, and quickly remove any ticks you find
Dr. Massa also warns of the dangers of skin cancer, the most common cancer of those in the United States. Keep these tips in mind provided by the Skin Cancer Foundation and CDC when outdoors:
Seek shade under an umbrella, tree, or other shelter before you need relief from the sun
When possible, long-sleeved shirts and long pants and skirts can provide protection from UV rays
For the most protection, wear a hat with a brim all the way around that shades your face, ears, and the back of your neck
Wear sunglasses to protect your eyes from UV rays and reduce the risk of cataracts. They also protect the tender skin around your eyes from sun exposure
Apply broad-spectrum sunscreen with at least SPF 15 before you go outside, even on slightly cloudy or cool days
Nature is all around you
Eve and her family have created countless memories in the Adirondacks. What are your favorite outdoor locations in New York state? For some it may be the beautiful Letchworth State Park, renowned as the "Grand Canyon of the East"  and one of the most scenically magnificent areas our area. Perhaps it's Buttermilk Falls State Park, which takes its name from the foaming cascade formed by Buttermilk Creek as it flows down the steep valley side toward Cayuga Lake.
Comment below and share with us where nature takes you!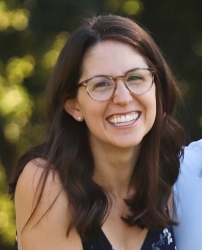 Latest posts by Erika Gruszewski
(see all)