I'm graduating.
I've been saying those words a lot lately…mostly in my head. For the past couple of months, it's been difficult to wrap my head around that concept. I've been a student for the past 16 years; I'm not quite sure I know how to be anything else.
The Fears of a Graduate
Like most college seniors, I've gone through the appropriate motions. I'm on the home stretch to graduate, I'm trying not to get a bad case of senioritis and I'm applying for jobs. With a lot of hard work and pleasant persistence, I hope to land a job—but what if I don't?
Most, if not all 22-year-olds are impatient to hit the ground running with a job related to their college major. We want it and we want it now.
As I fight my impatience to snag my first real job, my family has my back 100 percent of the time. Still, that doesn't mean I won't obsess over these questions:
When will I have a job?   Where will it be? What will I be doing? Do I want to live in my hometown or move away? When I get a job, will I be able to have a nice place to live, pay off student loans, afford a car?
"We'll always be here if you need us"
As I ponder what could happen, I took the direct approach and asked my mom and dad how they're feeling about another child venturing into the adult world. After all, they've raised four children over a span of 36 years—each with their own trials and tribulations after college.
What my parents said provided me with the confidence needed to take the next step. Susan Morris, my mother, possibly the toughest woman I know, has never doubted her children.
"You kids never worried us. Your dad and I are reminded every day how great you all are" she said.
I've always envisioned myself in a big city after college; I've made it a point to let my parents know this. Not because I want to get away from my hometown of Syracuse, N.Y., but because my parents have raised me to feel confident enough to tackle anything.
"If you want to stay here, that's great. If you want to move halfway across the world, that's your decision, but we'll always be here if you need us," Mom said.
At this point in the conversation, I had to fight back the tears.
For my dad, Kevin Morris, having his children move away is hard for him to accept. My sister, who is married with two kids, lives on Long Island. One brother lives locally; the other is still in college.
"You say you've been a student for 16 years, but we've been parents for double that time. We're never going to stop being your parents," he said. "As you move onto this chapter of your life, we have to let go and let you take the reins."
Disappointed? OK. Discouraged? No Way!
From as early as I can remember, my parents have drilled this piece of advice into their children's heads:
"It is OK to be disappointed—but it's never OK to be discouraged."
If the last four years of college taught me anything, it's that nothing is guaranteed. But I'm ready to take the reins. I don't know if it's college, or my parents' confidence in me or life, in general, that's taught me:
In life, you can work the hardest you've ever worked and still not get what you want, but you keep trying anyway. That's the point.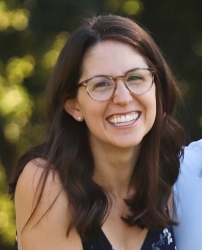 Latest posts by Erika Gruszewski
(see all)