Some of my favorite memories as a kid are from Halloween. I remember dressing up as a witch to go trick-or-treating with friends while hoarding  all of the peanut butter cups and refusing to listen to my parents when they told me to wear a jacket (Hey Mom and Dad – you were right about needing a jacket. Upstate New York gets pretty cold by the end of October). Thanks to food allergies, not every child is able to create those same memories. One in 13 children has a food allergy and Halloween can be one of the most frustrating and dangerous times of the year for them. But a teal pumpkin is trying to change all that.
The Teal Pumpkin Project
The Teal Pumpkin Project encourages people to provide non-food items for trick-or-treaters so that kids with food allergies can participate without facing risks to their health.  Some of the treats that are handed out include glow sticks, rubber balls, vampire fangs, etc.
Paint a pumpkin teal, put it on your front step the night of Halloween, and kids with allergies will know that your home is safe to visit.
Food Allergy Research & Education (FARE) started this international campaign in 2014 to "create a safer, happier Halloween for all kids." It began as a local activity by the Food Allergy Community of East Tennessee that has morphed into an international awareness event.
"One bite of the wrong candy by these kids could cause life-threatening allergic reactions," said LouAnne Giangreco, Vice President and Chief Medical Officer of Healthcare Improvement at Excellus BlueCross BlueShield. "We're thrilled that our communities are rallying around these kids so that they can also indulge in special 'treats' and have fun, just like everyone else."
A parent of children with food allergies is grateful for the Teal Pumpkin Project
Colleen Garofalo of Madison County is a mom to two kids who have food allergies. Her daughter is allergic to peanuts and her son is allergic to shellfish and tree nuts. Garofalo heard about the Teal Pumpkin Project from one of FARE's email newsletters.
"As a parent, the Teal Pumpkin Project means inclusion," said Garofalo. "There are so many times during school or birthday parties when my kids have to be careful about what they eat. They might feel left out if they can't have something the other kids can have. The teal pumpkins allow them to have another option."
When Garofalo's kids go trick-or-treating, they still collect all of the candy. But when they get home, they go through the candy to ensure that it's safe to eat. She's spotted a few teal pumpkins in her neighborhood, but hopes to see more as the word gets out about the campaign.
"The smaller candy that is handed out at Halloween doesn't typically list the ingredients," she said. "If I'm not familiar with the candy, it either gets thrown away or I have to research it to see if it's OK for my kids to eat."
"I've called manufacturers before to ask if a product that doesn't contain peanuts is made on the same line as another product that does," she added. "Then I have to ask about the cleaning process for the machines as well."
Join the Teal Pumpkin campaign
Some of the most common allergens for children are nuts, milk, wheat, egg and soy. Many candies contain at least one of those ingredients.
If you would like to take part in the Teal Pumpkin Project and offer a non-candy treat to trick or treaters, you can either buy a teal pumpkin or paint your own.
Wegmans Food Markets, Inc., for example, sells paint specifically for the Teal Pumpkin Project. The paint can be found in the seasonal section, near the pumpkin carving kits, and a portion of the proceeds benefit FARE.
"We are so happy to be able to support this initiative," said Wegmans Nutritionist Trish Kazacos, RDN. "It's a simple approach that allows children with food allergies to safely enjoy the holiday with their family and friends."
Once you have your teal pumpkin, place it in front of your house to let trick-or-treaters know that you have non-food items available. FARE also provides free printable signs to explain the meaning behind the teal pumpkin and a list of ideas to give out to trick-or-treaters.
Supporting the Teal Pumpkin Project and handing out non-food treats doesn't mean that you have to give up the Halloween tradition of giving out candy. You can hand out candy and allergy-safe items and then let the kids choose which one they'd like.
If you'll be putting out a teal pumpkin this Halloween, be sure to add your address to the crowd-sourced fever map and let your local community know that you are participating.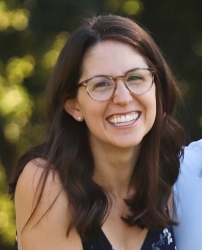 Latest posts by Erika Gruszewski
(see all)