Chocolate and Valentine's Day go together like socks and shoes or peanut butter and jelly. Wooing your sweetheart with a chocolatey treat is part of what we love about this holiday. But eating chocolate may also help our health, too.
Health benefits of chocolate
Chocolate comes from the cocoa bean, which has lots of flavonoid nutrients. Flavonoids can help reduce damage associated with heart disease. In addition, the flavonoids can lower blood pressure and improve the overall health of the heart and blood vessels. There are also lots of heart-healthy fats in chocolate, similar to the good kind that's also found in olive oil.
But when it comes to healthy eating, not all chocolatey-treats are created equal. This Valentine's Day, here are five new ways to gift your valentine an indulgent, yet slightly healthier, chocolatey experience.
1. Make hot cocoa from scratch
Instant hot cocoa is pretty tasty. But make your own so you can have free reign over what goes into the hot cocoa mix. Want a hot beverage that is really chocolatey or less sugary? Here's a basic recipe to get you started. Furthermore, if you're feeling brave, you can add ingredients like ground ginger, ground espresso or cayenne pepper to your hot cocoa mix.
2. Try a really, really dark chocolate
Dark chocolate contains more cocoa than milk chocolate, which makes it a better source of those heart-healthy flavonoids. So when you're at the store looking for a treat for your sweetheart, look for a chocolate bar with a higher percentage of cocoa (or "cacao" as it may say on the label). You may be surprised to find out you like it. If you're a milk chocolate fan, enjoy the health benefits of chocolate without excess sugar and fat when you steer clear of treats that contain extra ingredients like caramel, marshmallows, and nuts.
3. Surprising Pairings
You've probably experienced the awesomeness that is chocolate and peanut butter, but what about chocolate and avocado? This surprising pairing actually makes for a delicious, creamy combination in desserts like dark chocolate mousse. Plus, avocados are rich in healthy fats, potassium, and fiber. What about chocolate and beets? Don't knock it till you try it in a cake recipe, like this one. Bonus – beets are packed with vitamin C, fiber, and iron.
4. A Guilt-Free breakfast
Yes, it's possible to enjoy chocolate for breakfast, guilt-free, with cocoa powder. Cocoa powder is low in sugar and fat. It also offers the same health benefits as other forms of chocolate. Try adding cocoa powder to your overnight oats or avocado toast.
5. Savory dinners
You may think of chocolate only as a sweet treat, but it can also be used as an ingredient in a savory (and delicious) dinner. For example, dark chocolate is an ingredient in Mexican mole (moh-lay) sauce. For Valentine's Day dinner, why not use the crock-pot for this recipe for chicken mole? Or try this recipe for whole wheat pasta with dark chocolate marinara sauce.
Worth the Indulgence
My favorite chocolatey indulgence for Valentine's Day? A peanut butter and chocolate-covered potato chip. As a Syracuse native, I have to recommend peanut butter wings from the local Chocolate Pizza Company. These salty-sweet treats are totally worth the occasional indulgence. Just remember to enjoy in moderation!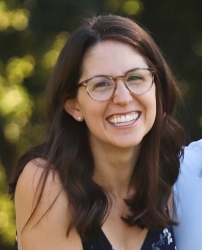 Latest posts by Erika Gruszewski
(see all)