The rhododendrons and azaleas were in full bloom, from magenta to pale pinks and creamy whites, when my work colleague, Linnea, and I visited the Cornell Botanic Gardens in June. This little gem of a park is not so little. It covers acres of land that are part of the Cornell University campus and College of Agriculture and Life Sciences.
Gardener's Delight
If you like nature, flowers and trees, then this is the place for you. Linnea and I spent a couple of hours enjoying the beauty of the landscape, pausing to enjoy flowers close up and sniffing their delicate fragrances. We snapped a lot of photos, especially of plants we favored for our own gardens. Each plant is tagged with its common and scientific names for easy identification.
Not only did the garden's beauty delight us, but also its statues, buildings, including a pagoda, and meandering trails.
This slideshow requires JavaScript.
Would you believe there are 17 themed beds? They include ornamental and practical herbs, heritage vegetables, perennials, ornamental grasses, groundcovers, conifers, containers, and plants of winter interest.
Herbs to Dye For
In particular, I wanted to visit the herb garden. I was not disappointed. Plants are grouped as:
Ancient herbs
Bee herbs
Dye herbs
Edible flowers
Herbs in literature
Herbs of Native Americans
Medicinal herbs
Ornamental herbs
Sacred herbs
Salad and potherbs
Savory seed herbs
Tea herbs
Tussie mussies and nosegays, gatherings of fragrant herbs and flowers. invoked images of Victorian ladies.
The site also includes a 100-acre arboretum. More than 100 different species of birds have been sighted there. If you're into hiking, there are several trails.
I discovered the gardens when I was writing a story about herb gardening for this blog. My Google search for Cornell Cooperative Extension, a free, excellent resource for farmers to weekend gardeners, brought me to this place. I had no idea it existed, even after living in upstate New York for more than 40 years and visiting the Ithaca area several times.
The Details
Location: 124 Comstock Knoll Drive, Ithaca, NY, 14850
Approximate driving times: Binghamton, 75 minutes; Rochester, two hours; Syracuse, about 80 minutes; Utica, a little more than two hours.
Hours: Open dawn to dusk year round.
Accessible: Yes, a few stairs on some paths.
Dog friendly: Yes, on a leash.
Admission and parking: Free.
For more info: cornellbotanicgardens.org/our-gardens/botanical or 607-255-2400
More to Explore in Ithaca
Although there's plenty to explore on the Cornell campus, Ithaca has much to offer, including the Cayuga Nature Center, Museum of the Earth and the Sciencenter and its Sagan Walk, a ¾ mile 1:5 billion scale model of the solar system that's also a memorial to Ithaca resident and astronomer Carl Sagan. Ithaca Commons is a mix of restaurants, shops and events. Linnea and I were lucky enough to visit the gardens at the same time of Ithaca's Annual Festival.
Check them all out on the discovery trail.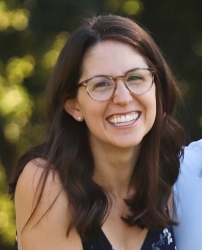 Latest posts by Erika Gruszewski
(see all)