Referred to by some as the "Stairway to Heaven," the Westminster Staircase in Syracuse holds special meaning for those of us who use it.
Starting on Euclid Avenue and leading to a small circular park at the dead end of Westminster Avenue, the stairs are a startlingly serene departure from the hustle and bustle of the University Neighborhood.
From the crest of the hill, you can catch some of the best views of Syracuse depending on the time of year. The stairs and park have been the scene of countless heart-to-hearts among friends, breakups, and even wedding ceremonies. But the stairs remain relatively unknown to the larger Syracuse community.
Is It Really "Hidden?"
To the untrained eye, yes! With the tree cover, you might mistake the base of the staircase for the steps to one of the neighboring Euclid Avenue homes built into the hillside. More observant passersby and those "in-the-know" will see the entrance to one of Syracuse's more whimsical urban features.
What's So Great About A Staircase?
Walking up the stairs recently, I could hear the sound of summer cicadas all around me (terrifying for some, calming for me). The noise of traffic was blocked by thick trees and I was surrounded by the lovely smell of earth and greenery. Even though I went on a 90-degree day, my walk up the stairs felt cool and relaxing in comparison to the sidewalk below.
At top of the stairs is Westminster Park, a modest patch of grass surrounded by a loop of road. Mature trees shade part of the park, and there is a solitary bench for weary stair-climbers. Above scrubby trees and bushes covering the sides of the hill, you can see the Carrier Dome and other iconic buildings on the Syracuse University campus. Milkweed growing among the brush is a sign the park may be a good place for watching for butterflies, and I saw a cardinal perched in one of the tree branches.
One More Thing
The staircase is used by many as an outdoor workout course. On my recent climb, I saw several people using the staircase to get in their steps for the day. Even just walking up the stairs will get you winded, so running up them is a great challenge!
The Details

Access the stairs from the south side of Euclid Avenue, between Maryland and Lancaster avenues. Or, enter from the dead end of Westminster Ave.
Please use caution as many of the bricks and cobbles have been worn away by the elements and there are many uneven surfaces. Only those with sure footing should use these stairs.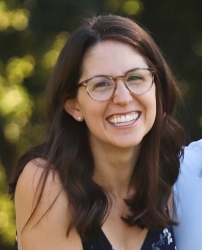 Latest posts by Erika Gruszewski
(see all)