Video games like Fortnite are becoming more and more popular by the day. It doesn't help the fact that they are played inside on a screen.
Olivia Belter is a mother of three teenage boys, ages 18, 15 and 13. She has had to master the art of getting her boys to look forward to outdoor, family time, rather than Fortnite time. During the school year, her kids have busy lives full of sports, school, and activities. That's why summer is the perfect time to squeeze in family time outside. But how do you get three teenage boys to enjoy a walk with their mom?
Now that we are getting settled into the summer, Olivia has found some helpful tips to get teens outside and away from video games.
Have a purpose
Olivia said, "this past weekend we went to Panama Rocks and went hiking there and had lunch afterward and that's kind of been our thing." Whether it's Panama Rocks, the gorge, or the eternal flame, all the locations they've visited have a purpose to it that her boys can look forward to i.e. waterfall, swimming hole, caves.
Make it "insta worthy"
Going along with the last tip, Olivia suggests the trip be "insta worthy." "Since they are so addicted to their phones," Olivia added, "they could also post about it on social media. It's an opportunity for them to go somewhere cool and show their friends." All of a sudden, a walk with your mom turns into a viral Instagram post.
Give them a choice
"Give them a list of places to choose from," Olivia said. Giving teens a choice makes them feel involved and more excited about what they're doing. Olivia mentioned that she'll search for new things to do, and let her boys pick from there.
Occasionally let them bring a friend
Bringing a friend along will only make the trip seem cooler to your child. "When their friend has a good time with you and your teen, they're going to tell their friends and parents, and also make your teen feel better about family time," Olivia said.
Be prepared with food
It's no secret that growing teenagers love food. "I am known as the 'cooler mom' because I always have a cooler with healthy snacks," Olivia said. She also mentioned that it alleviates the need to stop, and her boys have something to look forward to. Olivia also added that stopping for ice cream or cookies could also make for a fun treat they look forward to after a day of hiking and healthy snacks.
Alleviate the fear of the unknown
Olivia shared that much of the reason teens are reluctant is the fear of the unknown, being embarrassed, or bored. "After they realize that you are trying to make it a fun for everyone, they will get over that," Olivia said.
Olivia explained why getting outdoors family time with your teenagers is so important. "So much of their time is scheduled with something else. You have to make an effort to be outside and be outdoors when you can," Olivia said. It is rare for the whole family to get time to just talk and laugh together.
Using these tips, hopefully your teen will also look forward to family time, especially time spent in the outdoors.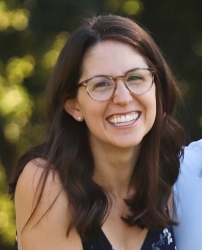 Latest posts by Erika Gruszewski
(see all)