They say it takes roughly 21 days to create a habit. As I write this, my kids and I are on day 40 of staying home from work and school—just like everyone else—to keep ourselves and those around us safe.
I admit, I was one of those parents who had grand plans of creating a routine, a "new habit" if you will, that we would stick to. Everyone wakes up by a certain time, meals on a schedule, set times for schoolwork and my work, and time for exercise (after all, the excuse that there's no time doesn't really apply anymore!).
Life on "Corona-cation" Time
Well, "corona-cation" as my son repeatedly refers to this unusual time, seems to dictate our new habits. Make no mistake, my teenage boys and I know EXACTLY how serious this is and there's no making light of what we're all being asked to do. They haven't seen their friends since in-person school ended on March 13, and they're discovering that even though they don't always like each other, they're lucky they have each other to ride bikes with and to walk the dog.
But because they don't see their friends in person, the only place they interact with them is, you guessed it, in the gaming world. So, the routine I had hoped to adopt hasn't panned out. My teenagers are "living their best life" right now. They're in bed until around noon, they get up to eat (and eat and eat), do homework, get outside for a little while if it's nice out, then game with their friends until long after I've gone to bed.
"Nothing so needs reforming as other people's habits" – Mark Twain
My "new-normal" schedule? Well, it's not much better. I've seen the jokes on Facebook; "don't forget to change out of your daytime pajamas and into your nighttime pajamas before you go to bed!"  Ha. Ha. The only comfort is knowing if it's being shared on Facebook, I can't possibly be the only one living like this.
Overall, even though there's no routine or habits forming at my house, everything is running smoothly, so why worry? I'm still able to focus on my work and the boys are getting things done. In fact, I haven't had to pay much attention to their schoolwork at all, and assumed all was well.
Until I received an email from a teacher. Then another, then a third, followed by a phone call from the assistant principal. What the…?  That's when I realized it was time to start "mom-ing" again and get my house back in order.
Meeting in the Middle-ish
The first step was to find a happy medium. It's not realistic for me to be the mom who has a set schedule for everything—right down to when to do the laundry. Not that's there's anything wrong with that, but it's just not me. I've always been more of a "fly-by-the-seat-of-my-pants" kind of mom.
So instead of set times, we have timeframes. I'm all about the "ish"—9-ish, 10-ish, noon-ish. So that's the clock we live by right now.
For the boys, there's no more sleeping until noon (or later), regardless of what time they went to bed. Ten (-ish) is their wake-up call. I'm also being much more vigilant about checking the school's parent portal for missing assignments. This really matters now since our school isn't grading students anymore. You pass or fail based on completion of the work.
Both boys are still engaged in some of their extracurricular activities (Boy Scouts and music). My oldest is "this close" to his Eagle Scout project, and my youngest is a decent drummer. Having set times for lessons and meetings has restored shred of normalcy for them, which helps with our schedule.
They also share dog-walking duty and general playtime with our pup. Somedays, it's the only exercise they all get, but at least it's something.
Making the Most of It
I personally have some new-found habits that have formed as well.
I walk. A LOT. It's the part of the day I most look forward to. I've experimented with different routes and I'm up to over four miles a day. It provides the mental break I need and physical movement that has been sorely lacking (if my back is any indication). This truly is the highpoint of my day.
Dinners at home are a thing again. Both boys play winter sports so from October through February I am on the go, as is dinner. With all of us home every day, dinner together at the kitchen table every night with home-cooked meals has been a great bonding time for us. Even though we're all in the same house, we're all usually on different floors. Believe it or not, we come together for dinner and have something to talk about.
When it isn't a home-cooked meal (I think I've made more meals in six weeks than all last year—a girl needs a break!), it's takeout from one of our favorite establishments, and sometimes from a new place we've been wanting to try. We want these places to be open for when we can dine out again someday so supporting local businesses has been great.
This slideshow requires JavaScript.
These are unprecedented times that we're all living in right now. There's no manual or instruction book on how to do it or do it right. The best habit we can all embrace is being generous with the gift of grace, for ourselves and for those we live with. After all, tomorrow is a new day for many of us, which makes us the lucky ones. And when this is all over, that really is all that will matter.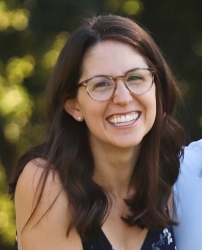 Latest posts by Erika Gruszewski
(see all)