Since March, many of us have adopted the role of stay-at-home parent and teacher, as well as full-time employee. As we're starting a new school year that undoubtedly looks different from years past, we asked Excellus BlueCross BlueShield employees to share how they are managing.
Here are our top six tricks for trying to manage kids, school, and work. Balancing all of this is a very hard task – but we hope these ideas help in some small way.
1. Plan
As a family, take some time to sit together at the beginning of every week or every day to coordinate work and school schedules. This will help everyone agree on who is doing what and when. The Meyers family starts most days with a family "meeting" to get on the same page. "I set up 'Meyers Family Huddles' with my two elementary-age daughters," said Angie Meyers of Monroe County. "The girls didn't know I was being that intentional with these huddles, it was just 'talking with mom about our day.' We would talk about their schoolwork for the day and what times I would be available to ask for help if they needed it."
You may also need to be more stringent about your work schedule. That approach has helped the Auch family. "I started to be pretty strict about my calendar," said Joy Auch of Ontario County. "I rarely accept meeting invitations during the lunch hour because I'm feeding my kids and I try to minimize meetings during the times my kids are neediest, like in the early afternoon. There are a lot of meetings, but I'm no longer booked solid all day long, which has helped tremendously."
2. Use Signs
After your "family huddle", let everyone in your house know the schedule for the day using signs, notes, or a whiteboard. Showing the times when you will be in a meeting can help kids to be more mindful about interrupting (or maybe encourage them to knock first). "My trick is the dry erase board with what's for lunch, dinner, and when I have meetings," said Olivia Linke of Niagara County.
3. Ask for Help
It can be overwhelming to try and manage everything by yourself. Ask relatives or neighbors for help. Our neighbor has a son the same age as our youngest (age 11). We get them together to play throughout the day and coordinate alternating working outside to watch them. Or, consider reaching out to a coworker or your manager to ask about options for more flexibility. You may have options that will help your work schedule better accommodate family priorities.
4. Enjoy Sleep… (at least theirs)
If your kids take naps or sleep in, let them! Take advantage of the early mornings or nap time to make time for work or exercise. That has helped Megan Schmidt of Chemung County manage work and her family of five. "With three kids (ages 3, 5 and 8), it has been a real challenge," said Megan. "I try to still get up early, get a workout in and log on my computer by 6:45-7:00 so that I can get two solid hours of uninterrupted time before they are awake."
5. Let the kids help you
Whether it is "working" beside you or helping to cook dinner, involve the kids. You might be surprised by what they can do! "My kids have been interested in my work lately, so when I can, I have them help," said Kelsey Gratien of Erie County. "They love selecting colors or clip art pictures for PowerPoint slides. Then I'm able to explain what I'm working on and they listen. They now have a better understanding of what I do, and they are more receptive when I say, 'Mom needs you to be quiet for an hour while she presents the report you helped with.'"
 6. Enjoy Each Other
While juggling work, family, and school is challenging, find moments of the day to enjoy being together. "My kids are not used to me being home so much," said Olivia Linke. "We have been able to have many more family dinners and family time since I am not traveling for work."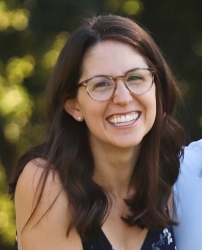 Latest posts by Erika Gruszewski
(see all)