Returning to school in the fall can be a tricky task for children who suffer from anxiety, autism, developmental disabilities or special needs.
Dr. Ann Griepp, M.D., a psychiatrist and medical director of behavioral health at Excellus BlueCross BlueShield, offers the following tips for parents who want to lessen the stress this school year.
Helping kids with anxiety return to school
Dr. Griepp had a child who suffered from anxiety. What helped? A sparkly, pink backpack.
Watch the following video to learn more about the backpack and other tips, including the importance of discussing last year's successes with your child.
Back-to-school routine for kids with special needs
The more you rehearse your back-to-school routine, the better the first days are likely to go for kids with autism, developmental disabilities and special needs.
For more tips, click on the following video.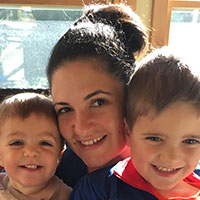 Joy lives in Ontario County with her boys (two sons and her hubby). She runs to stay sane and spends lots of time with her boys splashing in their creek and catching frogs and snails. She is a New England native who promises not to share her sports allegiances, although as an alumna of Syracuse University, she loves (loves) SU sports! Joy is a corporate communications manager at Excellus BlueCross BlueShield.