I love (LOVE) school supplies. Walking into Office Depot or a Staples store is like a day at the spa. There's nothing more thrilling than walking down rows of colored file folders, matching highlighters and Post-it Notes. My favorite of them all? Agenda planners!
Unfortunately, school supplies can cost a pretty penny. Being a broke, starving college student forces me to decide if I want to spend money on a new electric pencil sharpener, or if I want to eat for the week…decisions, decisions.
If you're like me, or if you need to purchase supplies for your kids, there are ways to reuse the things you already have. You can even make investments now to help you save money during the next back-to-school season.
Re-use, Renew, Recycle…
Save Those Binders!
Unless they're broken beyond repair, don't toss old binders in the trash. I've seen large binders priced at up to $12! If you need binders for five different subjects, you're already racking up those dollar signs.
Grab some colored duct tape and have fun recovering the binders. There are hundreds of colors and patterns out there. The binders will look like new when you're done with them. Do the same thing with folders, too!
2. Locker/Desk Clean Out
Cleaning out my locker or desk was a favorite end of the year tradition! I always went in with a grocery bag to retrieve unopened glue sticks, boxes of loose leaf paper, and other leftovers. Before you hit the nearest Target for a box of number 2 pencils, see what you might have left over from last year.
3. Pencils And Pens
Much to my dismay, I'm always buying new pens, even though I have dozens of them in my purse. Dig through old backpacks, check behind your couch or under the cushions and in the drawers of your desk. If you use mechanical pencils, instead of buying new, just get a few tubes of lead, and new erasers. Although it's a bad habit I'm trying to break, it's not a necessary item when you're doing your back-to-school shopping.
4. Stickers To Cover Stains, Rips And Tears
The internet is a beautiful thing. Luckily, we can find almost everything under the sun on there. Consider finding a site to buy stickers that can mend an old binder or folder. This is especially helpful if your kids want folders featuring favorite TV Show characters! Although it's trendy, the "character folders" tend to be more expensive than the regular red colored ones. I've used sites like Redbubble or CafePress to order stickers that can peel off at the end of the year.
5. Don't Lose The Loose Leaf
All those half-used spiral notebooks can come in handy when you need loose leaf paper. Instead of paying $7 for a package, rip out unused pages and put them in a folder!
Invest in…
6. A Good, Sturdy Backpack!
When I was younger, I was drawn to backpacks with glitter and fringe. Unfortunately, those backpacks tend to be built for fashion, not durability. My wimpy backpacks took a beating, so I'd need a new one every year. When I got to college, I finally got a backpack that was built to last, and I still use it. It costs a bit more money for a quality pack, but it's worth it. I've gotten three years out of this bag, and I never have to worry about it tearing.
7. Label Maker
Everyone makes fun of me for my electric label maker. I got it at a garage sale. It was broken, out of tape, and covered in dust. But, with some technical help and a deep cleaning, it works like a charm. I label everything. Notebooks, binders, dishes in my kitchen, the list goes on. This is a great investment, and I wish I had one in high school!
Instead of writing my name and class subject on my binders, I can now print a label and peel it off at the end of the year. Now my $14 five-inch binder won't say Mass Communication Theories forever.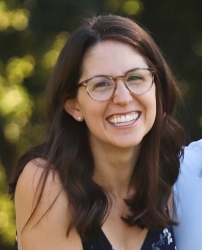 Latest posts by Erika Gruszewski
(see all)