Each time I have felt anxious, stressed or just overwhelmed, the answer is a messy drawer or closet away. Organization is my happy place. I have always found solace in making my home less cluttered and more controlled.
During the past few months of social distancing and working from home while educating my seven kids – I say that very loosely – organization has been a go-to for me. Everyone's coping strategy is different. But for me, whenever the world outside feels out of control, I turn inward. My small, at-home projects don't cost a dime and they also keep my mind busy. As a type-A planner, this all helps me feel better by knowing things are in order.
Cleaning Clutter for a Clear Mind
I am glad to find I am not alone. Many of my co-workers and friends have shared that they have also found this time has helped them get that much overdue yard work done, refrigerators cleaned out from years (yes, years) of unused condiments, or finally sort through that tall stack of unread mail.
Just this past weekend, I tackled a closet that had clothes bursting out of it, with things that my husband hadn't worn since he was in his 20's… he is now 42. Putting on some fun tunes – my go to is "Alexa, play Justin Timberlake" – and getting to work was the best mind-clearing activity I could ask for as the snow was falling outside in May. *Heavy sigh*
The reward was that my mind was clear after a few hours of organization; his closet looked fabulous, if I don't say so myself, and it turned out to be a family activity as my kids helped me fold jeans, stack shoes, and fill bags with those Hawaiian shirts to donate.
What can organization do for you?
Studies have shown that our physical environments significantly influence our cognition, emotions, and behavior. Working in or living in an unorganized space can negatively impact our stress and anxiety levels, both at work and at home.
A 2009 study of mothers in the U.S. found that mothers who said their home environment was cluttered experienced higher levels of the stress hormone cortisol. Another study found that individuals who felt overwhelmed by their "stuff" were more likely to procrastinate. Other researchers found that disorganization can trigger coping and avoidance strategies like watching too much TV or binge-eating a pint of ice cream.
On the other hand, according to the National Association of Productivity and Organizing, getting organized may help:
Boost your energy
Lead to better eating habits
Improve your sleep habits
Reduce stress and make us happier
Start Small
"If getting started feels overwhelming, choose one small project, such as a drawer that annoys you every time you open it," said Amanda Shanahan, RD, Employee Wellbeing Manager, Excellus BlueCross BlueShield. "Or make a list of potential projects and prioritize them by time, cost, necessity or benefit. This can help to organize your organization."
There is also practicality in home organization. When spaces are organized, less time is spent searching for things like that favorite black sweater or keys to the car. Your kids may be more likely to grab a healthy snack if there is a well-stocked snack bin or an organized refrigerator that displays some healthy options.
"Creating an environment which supports making healthy choices easy is key to maintaining good mental and physical health," Amanda said.
What works for you?
Home organization may not be a coping strategy for everyone. There are many activities that can help you the way this helps me, such as exercise, gardening or reading. Find an activity that brings you to a happy place.
For me, there is plenty still to do in a home where nine people live. I'm already looking forward to the weekend, taking a deep breath, and thinking of what I can tackle next.
What is your happy place? Tell us in the comments how you keep busy at home.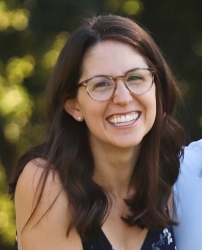 Latest posts by Erika Gruszewski
(see all)