For many of us who are now working from home, it can feel kind of crowded. The kids are remote-learning at home, and spouses or partners are set up to conduct their business from whatever quiet corner of the house they can find. At the same time, it can feel a bit isolating with friends and loved ones all practicing social distancing.
But don't fear, you're not living in an episode of the Twilight Zone! With the internet, free social media apps and video chat software, there is a way to replicate some social interactions and keep in touch with family and friends. Most people are familiar with Skype and FaceTime, but there are several other apps available that can allow you to socialize with large groups of people, safely and effectively.
Marco Polo Connecting Big Families
Marco Polo is an app used by Aida Byrne from Madison County. Believe it or not, she heard about it from Pink (yes, the recording artist!).
"While scrolling through what seems like an endless stream of Instagram posts on the coronavirus, I stopped to watch Pink and listen to her message – she is always so upbeat," said Aida. "Pink mentioned the Marco Polo social app as a great tool to keep in touch with people. Because I come from a big Italian family that includes my parents, six siblings, and 20 grandchildren across the state, I thought it would be a great way to share videos and short posts about our day to stay connected."
Marco Polo likens itself to a "video walkie talkie." It's a video chat app that lets you send quick messages back and forth with your friends.
"By Saturday night, 21 of us were connected and sharing funny stories and updates to keep us positive and motivated,'" said Aida.
Cheers and Yahtzee! with Google Duo
Over the past few weeks, everyone seems to have caught on to using virtual communication apps. Teachers are using it for instruction while adults are hosting happy hours to socialize and participate in virtual exercise classes.
Kevin Kane, from Monroe County, recently used Google Duo for a "virtual happy hour" with friends who had both Android and iPhones (vs. Facetime, which only works on iPhones). He and his wife later used Google Duo to play a "virtual game of Yahtzee" with his son and son's girlfriend on the West Coast.
Kevin let us in on a few tricks to set up an event using Google Duo. "The organizer signs up for an account, after which you grant access to your contact list, then you send a text to 'invite' the new group to a video chat call," he explained.
Use this unprecedented time as an opportunity to explore news ways of interacting, learning and socializing.
Other options to stay connected include:
How are you staying connected?
Share your story in the comments below.
Disclaimer: Excellus BlueCross BlueShield does not endorse or have any business relationship with the apps featured in this article.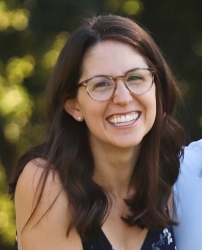 Latest posts by Erika Gruszewski
(see all)