Our daily routines offer a lot of comfort and efficiency. But, as Bill Murray's character demonstrates in the movie Groundhog Day, doing the same thing day in and day out can result in feelings of hopelessness or even depression.
Though not as comical or dark as the legendary 1993 film, I've found myself having similar experiences during the pandemic. Working remotely since March, I often don't know what day of the week it is, and honestly, I just don't feel as sharp as I used to. The monotony of days blurring together was getting to me. So when a colleague invited me to try alpaca yoga with her, I eagerly said yes even though I don't particularly like yoga (or had ever met an alpaca).
The Calm Before the Herd
The 40-minute drive gave me some time to plug in a nostalgic music playlist and let my thoughts wander while I took in the sights of the unfamiliar country roads. I felt uplifted before I even arrived at the farm. When I arrived, I checked in at a tent and was given a small cup of feed for the alpacas. We laid our mats down six feet apart in the grass and took off our face masks as the instructor told us what to expect. But nothing prepared me for what happened next.
It was remarkably quiet. There was no sound of cars or airplanes in the distance. In unusual fashion for the vast outdoor space, we guests whispered among ourselves in anticipation. All of the sudden, the herd of alpacas ran stealthily around the corner and into the space moving between extended hands like bees pollinating flowers. Eager to befriend an alpaca, I made the mistake of giving all my feed to the first one to visit me. I later lured more in with dropped bits I found in the grass.
This slideshow requires JavaScript.
Finding Balance
Immune to their charms, the instructor quietly started leading the class while the curious alpacas weaved in and out from the rows of mats. I don't consider myself a graceful person, so I usually don't enjoy yoga. I am often too concerned with doing it right. But alpacas are such silly creatures, so for the first time I felt like I fit in. There on a slight incline, with a small rock under my mat and the gentle sounds of grass being noshed near my ear, I found my balance.
A Wrong Turned Out Right
On the way home, my GPS instructed me to turn right, though I knew the way back I came was left. Not in any kind of hurry, I chose to toss the dice and turn right. As the GPS recalculated, I was pleased that I now had bonus quiet time to reflect.
About 20 minutes later, I rounded a corner and saw a sun-kissed field of sunflowers. I was prepared to drive by but the desire to disrupt my daily routine compelled me to pull over and pay respect to the splendor.  I knelt beside one of the flowers for a different perspective. Before returning to my car, I snapped a few pictures. It was a feeling I didn't want to forget.
This slideshow requires JavaScript.
The Benefits of New Experiences
I later learned that switching up your routine has positive neurological effects because you are stimulating your mind. Time even appears to last longer when you experience something novel because your brain is working harder to process the new experiences. (David Eagleman, Ph.D)
With many more months of working from home ahead of me, I'm now more committed to mixing up my routine as much as possible. Goat yoga is now on my growing list of things to try.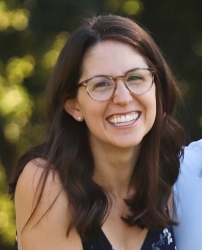 Latest posts by Erika Gruszewski
(see all)