Skin is something people take for granted, until the worst happens. It is the largest living organ of the human body and the most exposed to the elements.
Too much exposure to UV rays from the sun can cause skin cancer.  According to the CDC, skin cancer is the most common cancer in the U.S., with one in five Americans developing skin cancer by the time they turn 70. While skin cancer is more likely to occur in older adults, younger people can also get skin cancer.
There are many things we can do to safeguard our skin. A Healthier Upstate spoke to Tom Hoffman, a former construction professional living in Rochester, NY who survived a skin cancer diagnosis back in 2007. He shared lessons learned from his experience.
How did you first find out you had skin cancer?
It was 2007 and there was some unusual crusting on my right hand. I was concerned it was a solar spot. I worked in construction at the time. I went to my physician to check it out. My wife came with me. I talked to the doctor about working outside in the sun as an adult and playing outside in the sun as a child. The doctor took a look at my right hand and told me the spot could be cancerous.
He then examined the rest of my body. I thought everything else was fine, until my wife pointed to a spot on my body and said, "That doesn't look right." She pointed to a black-bluish spot a quarter-inch in diameter. The doctor agreed the spot was out of the ordinary and booked me for a biopsy. I got the biopsy and waited. One day when I was at work I got a phone call from the dermatologist.
They gave me the results of the biopsy. I had skin cancer. Melanoma. The most dangerous kind of skin cancer.  I was shocked.
What happened then?
I set up an appointment with a plastic surgeon since I had Stage 2 melanoma (it hadn't spread, but it was on the edge of spreading).
The surgeon said he had to cut around the area. Unfortunately, that didn't clear the cancer, so I had to go back for a second surgery, this time for a larger incision. Thankfully the final biopsy came back clear.
Did you do anything differently since getting cancer?
I was expected to survive five years.  It was an eye-opener! I did a lot of research and realized things I hadn't realized before. I learned about precautionary steps, such as the correct use of sunscreen with enough SPF. I use sunscreen with an SPF of 50 and now wear a wide-brimmed hat. You're still exposed to the sun's harmful rays on cloudy days, so I make sure to put on sunscreen. I also learned you can get melanoma in the eyes, so it's a good idea to wear shades. I passed the 5-year survival rate in 2012, and am grateful for each day given to me.
Tips for protecting yourself from the sun
This summer, enjoy the sunshine safely, with these tips from the CDC:
Stay in the shade, especially when the sun is high
Cover up your exposed skin, especially your arms and legs
Wear sunglasses that protect from UVA and UVB rays
Use a sunscreen that is at least SPF 15 and that offers broad-spectrum protection. Apply sunscreen before going outside. Reapply if you're staying out in the sun for more than two hours and after swimming or sweating. Damaging UV rays can impact all types of skin, so even people with darker skin need sunscreen.
Avoid indoor tanning
If you notice any changes to your skin, make an appointment with your doctor to examine your skin.
Click HERE to download a free infographic, "The Scorching Truth About Skin Cancer" or learn more by watching this short animation: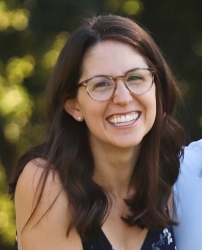 Latest posts by Erika Gruszewski
(see all)