Sunglasses for kids come in all sorts of fun sizes, shapes and characters. What young kid wouldn't want police dog Chase from Paw Patrol or Anna and Elsa from Frozen plastered on the side of their shades?
More importantly, just like with adults, sunglasses can save their skin and eyes by blocking the sun's powerful ultraviolet (UV) rays.
Children under age 10 are at a high risk for skin and eye damage from ultraviolet rays, according to the Skin Cancer Foundation. The skin on their eyelids and around their eyes is more delicate and vulnerable than adult skin, according to the Foundation.
Try to keep a child who is less than 6 months old out of the sun. Those ages 6 months and older should wear sunglasses when playing outside. If your child wears prescription glasses, don't forget to also get those prescription sunglasses!
Here are seven tips for buying sunglasses for children from the Skin Cancer Foundation:
UV rating. Buy glasses that offer 99-100 percent protection from two types of ultraviolet rays: UVA and UVB rays.
Large, wraparound shades. The larger the sunglasses, the lesser the risk of the sun damaging your kid's eyes.
Playground-proof. It's way too easy for a kid to break glass lenses! Consider plastic lenses (unless, of course, your doctor asks you to use glass ones instead). Impact-resistant, scratch-proof lenses that don't pop out of the frames are best for young kids. Glasses should fit snugly on the face and the frames should be bendable, and not breakable.
It's their choice. Kids, especially finicky teens, are more likely to actually wear the glasses if they helped pick them out.
Check for scratches. If the glasses have any flaws, it might distort their vision. Young kids, for example, might not be able to say what is wrong if the glasses are warped.
Don't forget the big hat. Sunglasses only prevent rays that come in from the lenses. Sun can still enter from the side or top of the glasses. You might want to purchase a wide-brimmed hat for your kid when you're buying those shades.
Finally – find a tree. Retreating to a shady spot when the sun is intense – between 10 a.m. and 4 p.m. – provides great protection from the sun.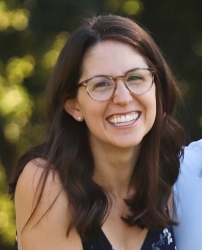 Latest posts by Erika Gruszewski
(see all)