It was the end of August, late in the evening and raining cats and dogs when my bus pulled into the station in Oswego, New York, 23 years ago.
I had just quit my job to become a full-time college student at the age of 39.
There's an old Chinese proverb, "A journey of a thousand miles begins with a single step." This would be the biggest step of my life. It was not quite a thousand miles from Brooklyn to Oswego — more like 260 — but still daunting, and a huge step for me.
Let the journey begin
Back when I was 19 and considered myself "grown," I dropped out of college in favor of getting a full-time job, earning my own money and having my own apartment. I told myself (and my parents) that I would go back to school in a year.
Landing an entry-level figure clerk job for a major insurance company, I joined droves of others in business attire amidst the hustle and bustle of Wall Street. From there, I got a job at Empire BlueCross BlueShield working as an examiner in Supplemental Medicare. My introduction to the health care field was brief, as my path led me to the banking industry.
Fast forward 21 years
After 15 years in the banking world, I found myself passed over for promotions that required a college degree. With growing frustration, I realized that it was decision-making time. I could continue going down the path I had chosen as a teenager, or I could change it.
There was no way to attend school while I was still working, because my job demanded long, mandatory overtime hours. I decided to quit my job and become a full-time college student at the age of 39. We were called nontrads, short for nontraditional students.
It's all about having a plan
My plan was to pull up my Brooklyn roots and attend the State University of New York at Oswego. I had never heard of Oswego, but chose the university because of its broadcasting major. I thought I wanted to work in television and radio, but later changed my major to public relations and English writing arts.
Oswego was perfect. Unlike New York City, it was not a major city, and there were fewer distractions. I also decided to live in the dorms with the other freshmen, even though I was 21 years older than they were. The dorm I chose was smaller than the others and situated right on Lake Ontario, which was a bonus.
Finally reaching my destination
As I lugged five pieces of luggage across campus in the pouring rain, not sure where I was going, I worried about having some 18-year-old snot for a roommate, and that we would constantly be at odds. I was lucky. He turned out to be quite a bit like me when I was that age — a bit reserved, but still fun. To this day, he is still one of my nearest and dearest friends.
Although the students in the dorm were younger than I was, they taught me a lot, especially when it came to computer skills. Ever patient with me when I would get frustrated with myself, they were helpful and good-natured as I developed my computer proficiencies.
They also helped me in the beginning – when I questioned my decision because the road ahead seemed so long. It was these young kids who also taught me how to study. We spent two hours in the library every Sunday, whether we needed to or not.
Meanwhile, I had become a big brother to them. In no time, they had become more than my dorm- mates. They were my new family.
Oswego is brutal in the winter
Near the end of my first semester, five feet of snow covered the ground outside our dorm. At first, it looked pretty with the trees covered in snow. It was fun frolicking in it and having huge snowball fights with the other dorms. Then it got old and long and everyone just wanted it to be spring, but there appeared to be no relief in sight.
As the winter snows melted with soft spring rains that later revealed a glorious summer and fall that year, I quickly realized that spring, summer and fall more than make up for the harsh winters in Oswego. The sunsets on the lake are spectacular.
Change is inevitable
It was with great pride that I walked across the stage after four years of school. Al Roker, also an Oswego State alumnus, was the guest speaker at my commencement ceremony. Al's message for us was to follow our dreams and not be afraid to embrace change, as change is inevitable. He also advised us to continue to expand our minds by challenging ourselves and to have a healthy appetite for knowledge and a thirst for achieving goals.
Feeling a tremendous sense of accomplishment from what I had achieved in my four years at Oswego, I also realized that I had learned a lot about myself, academics and collegiate life. The biggest lesson was that I am in charge of own destiny. Best of all, I now was qualified to apply for any classified job ads that required a college degree.
I still keep Al Roker's advice in mind as I continue to work toward accomplishing the goals that I set for myself. The road may not always be direct, and I may stumble here and there, but I now know that in the end, it is worth it.
It's never too late for a new beginning in your life
You, too, can make the decision to take a different course in life.  Don't be afraid — you can start right now. If you're feeling at a crossroads, or in need of some inspiration for what you're planning to pursue, remember that you can do it. Here are some other things I learned along the way:
Develop a plan and stick to it
Follow through with the plan, even when things seem tough
Always remember why you made the decision to give yourself a new start
Don't be afraid to make minor adjustments to the plan if needed
Take a chance
Develop some close friendships along the way … they might turn out to become your lifelong friends
Learn all you can from other people
Appreciate the good that comes along with the bad
Take pride in your accomplishments
Be open to ever new possibilities
For me, making the decision to quit my full-time job to become a full-time student was the best decision I ever made. It gave me new experiences, a chance to make new friends and opened up my career possibilities far beyond what I ever thought could be possible.
Interestingly enough, I never had the chance to get to miss the cold and bleak Oswego winters and the lovely Lake Ontario sunsets, because — believe it or not — I still live in Oswego.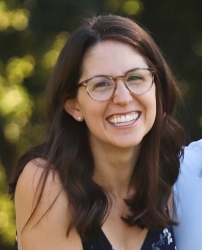 Latest posts by Erika Gruszewski
(see all)