George Jones sang about not needing a rocking chair when he grew old and that was the tune Laura Vallone hummed when she signed up to train for her first 5K run/walk this past summer.
Laura read about the training program for seniors over age 55 in the Broome County Office for Aging Senior News weekly paper. It piqued her interest.  "I had not been able to exercise for two years due to health reasons and I thought this would be a great way for me to get started again," Laura stated.
Older adults don't have to be intimidated by the idea of starting a 5K run or walk for the first time. Just follow these tips:
Ask your doctor! If you have any doubts about whether or not you are physically able to start exercising, ask your doctor for advice.
Starting is simple!  Some seniors think that starting to exercise is too much bother. Getting started doesn't have to be hard! You don't need a plan; don't worry about what you are wearing; don't make excuses; just open your front door and start walking, even if it's only for a few steps!
Join a group! All too often, seniors are out walking on their own. It's much more fun if you convince friends to join you or you can join a group. Besides being more fun, groups are safer and you're more likely to go on the walk if you've previously said you would join others. Some groups that you can join: Seniors Running and Walking Festival and the Broome County Office for Aging Senior Hiking Club.
Laura, for example, joined the Vestal Senior Run/Walk Festival training program, which is sponsored by Excellus BlueCross BlueShield. The training program met twice a week for eight weeks and focused on proper warm up and cool down skills, basic hydration options and the overall race/walk itself.
You're not too old!  There are many people in their 90s and even over 100 years old who walk or run on a regular basis.  Even if you need to use a cane or a walker, you can still get out and enjoy a walk with others.
It takes time!  Seniors who may not have had much exercise recently will need to slowly build up their endurance. Start with some very short walks, at an easy pace, and gradually increase how far, and how fast you walk. It's also good to walk in places that have benches so you can stop to rest if needed.
Beat the heat! Try walking in the early morning or early evening, when it's a bit cooler. Wear a hat and use sunscreen. Walk in the shade whenever possible, even if that means walking on the grass. Stay hydrated, bring a water bottle and drink water during and after your walk.
Laura said the summer heat added some additional stress to the 5K event.  "The summer was very hot and humid and the day of the race it was very humid," said Laura.  "I wasn't afraid of failing though, I knew that I would finish the race, even if it took me a little longer," she added.
Vince Fox, coordinator of the Vestal Senior Run/Walk event, said the heat was brutal that summer but that didn't stop senior citizens from participating. "I always enjoy hearing the participants' stories, like Laura's, how they had fun, and gained the exercise benefits at the same time." We had nearly 100 seniors cross the finish line this summer, despite the hot weather."
Wear shorts! Some seniors tend to wear heavy, warm clothing such as long pants and two layers on top. That's fine for indoors but not for walking on warm summer days. Instead, try wearing shorts and a short-sleeve shirt that are made with cooler materials such as 50/50 blend or polyester.
Treat your feet! If you start to walk on a regular basis, your feet will thank you if you get them a pair of comfortable shoes that fit well and are designed for walking (or running). Some seniors are used to going out in their dress shoes, but you'll feel so much better in walking shoes, and you'll still look good!
Keep a diary!  Write down how much time you spent walking, or how far you went. It gives you a sense of accomplishment to be able to look back at your diary and to see your progress. Some people also like to write about how they felt and who or what they saw along the way.
Enjoy it!  Exercise, especially with a group, will make you feel good. Enjoy the feeling of being healthy and meeting your goals. Even though you may get a little tired, you can still enjoy the way exercise makes you feel.  It also gives you a great feeling of accomplishment.
Laura's daughter Lorraine is thrilled that her mother has found a passion for participating in 5K races.  In fact, she helped her sign up for another race this past summer in Pennsylvania and brought her entire family to cheer Laura on!
Laura has credited the Vestal Senior Run/Walk Program with getting her moving again and keeping her active.  She is committed to continuing to exercise and walk —leaving those rocking chairs for someone else.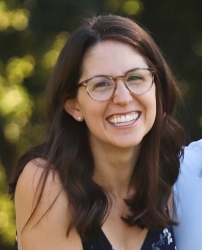 Latest posts by Erika Gruszewski
(see all)