Making the decision to breastfeed can be a complicated and daunting process for many women. Health experts recommend that mothers exclusively breastfeed their babies for about the first six months. However, according to the Centers for Disease Control and Prevention, breastfeeding disparities exist, with fewer Black infants being breastfed compared with White and Hispanic infants. There is also a lack of diversity in the lactation field.
When factors such as unique cultural barriers and a complex history connected to breastfeeding are combined with food desert-like conditions in many urban areas where women may struggle to access healthy food, it brings to light the importance of a week devoted to Black Breastfeeding.
This week – August 25-31, 2020 – is celebrated by many who wish to bring attention to the topic, including Syracuse Community Connections' Maternal and Family Health Program, which provides pregnancy, birth and parenting support to families that are expecting a child and/or have children up to 18 months old.
Connecting the Community

According to Rachel Johnson, Maternal and Family Health Program Director at Syracuse Community Connection, their home-based services are free to families residing in the Syracuse area. These services include a Doula Program, a Fatherhood Program and Baby Talk classes. Black Breastfeeding Week is one of many opportunities this organization takes to educate the public on topics and issues that impact women and families in their community.
This slideshow requires JavaScript.
"Black Breastfeeding Week is meant to highlight and celebrate the Black women in our community that have chosen the complex journey of breastfeeding," she said. "Our goal is to create visibility for and celebrate Black women who are currently breastfeeding; de-mystify breastfeeding, while providing the opportunity for individuals to share their real and raw experiences; and provide education to the community and support systems that enhance confidence to encourage a positive breastfeeding experience."
Bridging the Gaps
Creating representation and transparency for Black maternal health helps to bridge gaps in our community in order to work towards reducing health disparities that are largely influenced by race, gender, and income status, says Latoya Mallory. Latoya manages Excellus BlueCross BlueShield's SafetyNet Member Care Management Program, Bright Beginnings.
"We offer services that support what our friends at Syracuse Community Connections are doing," Latoya explains. "We offer programs that go hand-in-hand, including Bright Beginnings, which works with pregnant or new mothers to manage appointments and visits to the hospital and pediatrician, and provides breast pumps and pregnancy education."
The Bright Beginnings program helps support Black Breastfeeding Week by providing education to Excellus BCBS members about the benefits of breastfeeding – a standard set forth whenever care managers like Emily Georger, RN, work with women in the community.
Bright Beginnings
Emily recently helped a new mom through the breastfeeding decision-making process, which can sometimes be daunting. "This member had planned to breastfeed, but was not fully educated on what to expect," she explained. "I was able to provide education and help talk through some common misconceptions about breastfeeding."
The member was also connected with other services that would help her in this decision including a lactation consultant with Women, Infants and Children (WIC), the Medicaid free breast pump benefit, and virtual parenting classes offered by local community agencies.
"The member, who delivered a healthy baby girl this summer, was pleasantly surprised, as she was unaware of the additional services available to her… It's our job to help connect those dots," Emily said.
Thanks to the work of these organizations and a week that draws attention to this important health issue, an impact can be made.
"We want Black women to know that they are being seen and heard," Rachel said. "We want them to know that they are not alone and that they have a safe space to share their stories.
Learn More
Syracuse Community Connections' Maternal and Family Health Program
Excellus BlueCross BlueShield – SafetyNet Program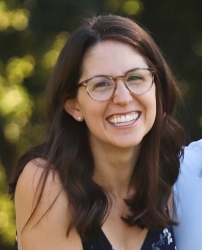 Latest posts by Erika Gruszewski
(see all)