According to Greater Good Science Center at University of California, Berkeley, gratitude's amazing powers can shift us from focusing on the negative to appreciating what is positive in our lives. People who practice gratitude daily tend to have:
Fewer feelings of isolation and loneliness
A stronger immune system
Better sleep
Lowered blood pressure
Reduced anxiety and depression
Reduction in body aches and pains
More forgiveness
Increased satisfaction at work
My New Gratitude Habit
To develop a daily habit of gratitude and fulfill a personal goal to improve my Procreate app skills, I designed this playful graphic and shared to social media (LinkedIn and Facebook) on Nov. 1, which marked the first day of National Gratitude month.
So far, my experiment has been a success; after the first three days of practice, I was bursting with gratitude! I thanked my husband for the renovations he's made to our home which we're now spending most of our time together in and for preparing healthy and delicious meals each night.
Gratitude is Meant to Be Shared
To further hold myself accountable to my daily commitment, I sent the graphic to peers in my workgroup and invited them to participate with me. Using the prompts on corresponding days, I kicked off meetings by asking participants to share what they were grateful for, sharing first what I was grateful for to model the behavior.
What I've enjoyed most about this activity was the opportunity to grow relationships and say thank you by sharing stories that might not have come up through our day-to-day discussions.
I've seen my graphic shared on social media along with the posters' personal gratitude reflections. As Thanksgiving approaches, I hope it may inspire creative ways for some to celebrate the holiday virtually as needed.
Comment below what you are grateful for. I promise it will make you feel good.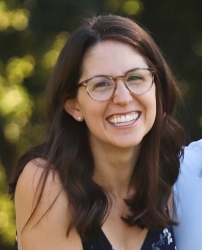 Latest posts by Erika Gruszewski
(see all)