When we think of summer grilling, we may automatically think of hot dogs and hamburgers. But there are healthier options that are perfect for the grill, and that your family and guests will find very tasty.
Simple Swaps Reduce Sodium
"Switch up your grilling routine to incorporate more fresh produce and lean protein," said Patricia Salzer, RD, workplace wellness support coordinator at Excellus BlueCross BlueShield. She recommended swapping out fatty meats for lean meats, poultry and fish.
"If you must have red meat, use fresh, rather than packaged, meats," Pat advises. "If a food item keeps well in the fridge for days or weeks, it's likely the sodium content is high. Sorry, hot dogs!"
Americans are eating 50 percent more sodium than they need, mostly from processed foods or food from restaurants. High sodium intake contributes to heart attack and stroke, two of the leading causes of death in the United States.
A Healthier Cookout
"For a healthier cookout, make grilled veggies the highlight of your plate with a smaller portion of meat, fish or poultry," suggests Salzer. "An easy way to do this is to use skewers, maximizing the produce and minimizing the meat you put on them."
Grilled vegetables such as eggplant, asparagus, corn, avocados, jalapenos and romaine halves can replace the usual starchy side dishes at your cookout. Furthermore, instead of flavoring foods with high-fat dressings or salty seasonings and marinades, choose herbs and spices, vinegar and extra-virgin oils.
"Grill whole-wheat pizzas or bread to make crostini or grill bread, then rub a cut garlic clove into it and finish it with a rubbing of a tomato half," says Salzer. "And for dessert, grill stone fruits such as peaches, apricots and nectarines, or try pineapple, figs, melon, and apples."
For additional information on nutrition and a healthy diet, visit Excellusbcbs.com. Click on Health and Wellness along the top tool bar.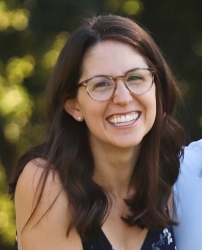 Latest posts by Erika Gruszewski
(see all)