Zucchini, potatoes, and even peaches are all amazing on that summertime grill. Sound strange to you lovers of hot dogs and hamburgers? Well, don't knock it until you try it!
The garden and the grill have met, and newsflash – it's delicious and good for you, too!
"Eating a diet rich in vegetables and fruits as part of an overall healthy diet may reduce risk for heart disease, including heart attack and stroke," says Pat Salzer, RD, Excellus BlueCross BlueShield workplace wellness support coordinator. "It may even protect against certain types of cancers."
Choose Wisely
The possibilities of adding fruits and vegetables into your diet – whether on the grill or not – are endless. One of the best things about summer is the abundance of fresh fruits and vegetables, Pat said. Pat shared some helpful tips for choosing, storing and eating fruits and vegetables at their peak for optimal freshness and nutritional value.
Apricots
Look for: Plump; fairly firm; golden yellow or golden orange.
Avoid: Pale or greenish yellow; bruised or shriveled.
Store: In the refrigerator up to three weeks.
Use: As a snack or add to cereal.
Berries
Look for: Firm, plump.
Avoid: If the container is stained.
Store: Eat within a few days of purchase, keep refrigerated.
 Use: On cereal or yogurt; in a smoothie or fruit salad; with angel food cake.
Grapes
Look for: A plump bunch with grapes firmly attached to the stem.
Avoid: Those with a bleached look at the stem; soft or wrinkled grapes.
Store: In the refrigerator in a plastic bag.
Use: In chicken salad; wash and place in bowl in the refrigerator or freeze for a refreshing snack on a warm summer day.
Cantaloupe
Look for: Slightly soft stem end; sweet aroma; yellow or golden color.
Avoid: Green color; soft or sunken spots.
Store: On the counter for two or three days, then refrigerate in a plastic bag that is tightly sealed until you're ready to cut. A ripening melon gives off gases that can spoil other produce.
Use: As a snack or in fruit, chicken or turkey salads; hollowed out as a bowl for fruit salad.
Honeydew
Look for: Waxy, cream-colored rind; stem should give to gentle pressure.
Avoid: If melon is too firm or too soft, green colored or has dark blemishes on the skin.
Store:  When uncut, keep on the counter top.  Once cut, keep it refrigerated. They don't ripen once they are picked.
Use: As a snack or in fruit, chicken or turkey salads, or as fruit kabobs on small skewers with low-fat yogurt dip.
Watermelon
Look for: Heavy for its size; fragrant smelling; slightly soft at the blossom end. Thump; a low-pitched sound indicates a full, juicy interior.
Avoid: If it sloshes when shaken, it's probably overripe.
Store: Uncut watermelon at room temperature for up to two weeks; when cut, refrigerate loosely wrapped.
Use: As a snack or in fruit, chicken or turkey salads; hollowed out as a bowl for fruit salad.
Peaches
Look for: Creamy or yellow color; smell for slight aroma; slightly soft when handled gently.
Avoid: Green, extra-hard or bruised flesh.
Store: Ripen by placing in a brown paper bag at room temperature; check daily for ripeness and eat when ripe or refrigerate for three to five days.
Use: As a topping for cereal or frozen yogurt; grill with meat; use as a salsa with meat or low-tat tortilla chips. Great on the grill (recipe: Peach and Arugula Salad with Goat Cheese).
Sweet peppers
Look for: Firm, bright, glossy red, yellow or green color.
Avoid: Wrinkled skin.
Store: Unwashed in a plastic bag in the refrigerator.
Use: As a snack with low-fat dip or in salads; roast and add to sandwiches; stir fry; stuff with cooked brown or wild rice and bake.
Tomatoes
Look for: Red or reddish orange with a sweet aroma; smooth, well-formed and firm, yet yields slightly to gentle pressure.  Tomatoes can also be yellow or green.
Avoid: Hard ones or with wrinkles, cracks, bruises or soft spots.
Store: Set in a bowl or ventilated paper bag to ripen, not on the window sill or in the refrigerator.
Use: Sliced or in sandwiches; in green or pasta salads; with sliced cucumbers, red onions, olives, feta cheese and low-fat dressing. Too many tomatoes? Make sauce!
Remember to rinse fruits and vegetables under cool running water just before eating. Use one cutting board for slicing fruits, vegetables and breads; another for raw meat, poultry and seafood.
Looking for a delicious summer recipe using fruits and vegetables?
Grilled Vegetable Salad
8 ounces small whole mushrooms
1 Vidalia onion, quartered
2 zucchinis, sliced into ½ inch pieces
2 peppers (green, red, yellow or orange), seeded and quartered
1 eggplant, sliced into ½ inch pieces
Place these or any of your favorite vegetables on a grill rack with the grill on medium high heat.
Grill until slightly blackened.
Mix the following in a large bowl: tablespoon olive oil, 2 tablespoons red wine vinegar, ½ teaspoon mustard and a dash of salt and pepper.  Add grilled vegetables and toss gently to coat.
Apple Salad
2 cups apple (diced)
1 cup celery (diced)
1/2 cup raisins
1/2 cup nuts
2 tablespoons lite mayonnaise-type dressing (or mayonnaise)
1/16 cup orange juice (1 Tablespoon)
Mix orange juice with salad dressing or mayonnaise.
Toss apples, celery, raisins and nuts with the dressing mixture.
Visit the U.S. Department of Agriculture for dozens of other recipes including free access to how-to videos and online cookbooks.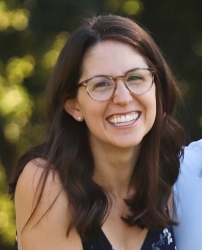 Latest posts by Erika Gruszewski
(see all)