The north side of Binghamton, New York, was in desperate need. Not only does it have a high rate of obesity, but it also has the highest rate of poverty in the county. Making matters worse, the only grocery store in walking distance or on the bus line closed. It was hard to find affordable or quality fresh foods.
The Northside Healthy Lifestyles Program
The United Way of Broome County stepped up to help by creating the "Northside Healthy Lifestyles Program." The program increased residents' access to healthy food, in particular locally grown fruits and vegetables, and taught them about nutrition. The program also provided physical fitness opportunities for families to combat childhood obesity. But there was still something missing.
More Help Needed For Binghamton
Program coordinators soon learned that more was needed to improve the residents' health. Community members wanted important health screenings and physical education activities for their families. They'd also benefit from health coaching and chronic disease management, which the program lacked.
"Families didn't know where to get started," said Kim Schwartz, program coordinator and physical activity specialist for the United Way of Broome County.
A Customized Approach To Getting Healthy
Excellus BlueCross BlueShield stepped in to partner with the United Way of Broome County with a three-year grant to enhance the Healthy Lifestyles Coalition Program. The program could now expand services to better support the community.
They added a new program, called the "Northside Health Coaching Program," to provide individual motivational health coaching, physical education opportunities, peer counseling and free health screenings.
"The unique aspect of this program is that all participants will receive a customized approach to getting healthy," said Jessica Renner, Excellus BCBS regional president.
Small Changes Have a Big Health Impact in Binghamton
The new partnerships and programs have helped the community. Northside community members are now learning about nutrition, taking yoga classes, learning stress management skills, and trying different programs to maintain a healthy lifestyle.
"Small adjustments add up to a big difference," stated Schwartz. "Trained health coaches work with participants to make lasting changes together."
After six months in the program, one program participant, Laura Race, has lost 89 pounds. She's gone from a size 22 to a size 16.
"My blood pressure has improved, and my cholesterol has gone down. My doctor told me that health-wise, I'm a whole new person," said Race.
Food, Fitness, and Bikes, too!
The enhanced Northside Healthy Lifestyles Program also has a new component called Fresh Cycles. The Fresh Cycles program helps kids and their parents with bike maintenance, including donated bikes, and recycling.
Adult volunteers provide hands-on instruction about basic bicycle maintenance and repair. They also educate about safe riding habits, e.g., wearing a helmet, following traffic laws and being visible on the roads. Group rides are open to anyone who wants to peddle through Binghamton's neighborhoods, parks, and roadways.
"Together with Excellus BCBS, we're making the health and wellness of Binghamton's north side our top priority. Our goal is to get people to 'Move More in 2017' and take a more active role in their health care," said Schwartz.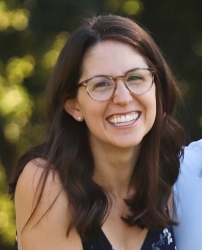 Latest posts by Erika Gruszewski
(see all)