"Remember, the feeling you get from a good run is far better than the feeling you get from sitting around wishing you were running." – Sarah Condor, New York Marathon runner
My high school baseball coach firmly believed that forcing his players to run miles after making blunders during games served as atonement, as an effective deterrent against future mistakes. After all, high schoolers hate to run, right?
As far as I can tell, he was right. We all dreaded the look he'd give us after booting a ground ball or missing a sign – the look that inevitably meant we'd need our running shoes for practice the next day.
Running is a fickle friend, a cardiovascular monster that both invigorates the subject and makes them wish for a painless death at times.
However, given the right setting, I've come to like running. Well, actually…
I've come to tolerate running and enjoy the feeling of accomplishment when it's over.
As Sarah Condor quipped, a good run can feel good in the moment and great when you've toweling off and enjoying a cool burst of fresh water.
There's no sure secret to developing an appreciation for running, no formula to develop an artificial love for the activity. However, through painstaking trial-and-error, I've discovered what very well may be the biggest indicator of how much I'll enjoy any given run.
The setting.
Jogging down countless cookie-cutter boulevards in succession can feel boring and repetitive. That's why I'll ditch the suburban streets for a good view anytime, even if it means hopping in the car and driving a few minutes to snag a solid spot.
Rochester boasts plenty of running trails, but trails aren't for everyone. The uneven terrain can be a hindrance to enjoyment and some don't like the silence. For that reason, I'll focus on some of my favorite spots all across Rochester, many of which feature a mix of settings, from country to waterfront.
EAST SIDE
Eyer Park trail
Let's start off with a real hidden gem. I'm from East Rochester, a small town nudged between Pittsford, Penfield and Fairport. East Rochester's Eyer Park holds several ballfields and a lodge for parties, but the real beauty is a trail between the park and the train tracks.
The trail itself is only about a third of a mile long, but it holds a wealth of possibilities. Once you clear the trail, here's the route I encourage (it's one of my most frequent runs).
Head down Midvale Drive towards Baird Road. Once you cross Baird, head through the BOCES parking lot. A right-hand turn onto O'Connor Road puts you on a straight line to the Erie Canal.
I love this route because it features so many different types of nature. The trail is thick and green, the streets provide a respite from seclusion, and the canal is an overall beautiful place to explore.
Here's my suggested route (just over 5 miles there and back):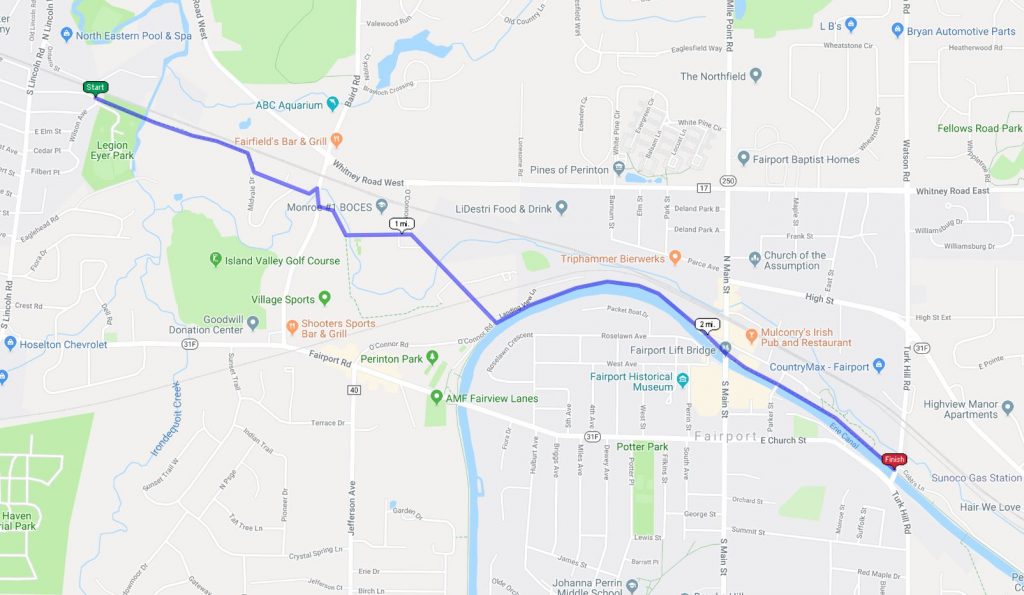 WEST SIDE
Gates Greece Townline Road
Strangely enough, one of my favorite spots on the west side of Rochester is one of the suburban streets I criticized earlier. However, given its close proximity to downtown Greece, it feels strangely serene.
Clocking in at just over 1.5 miles, Gates Greece Townline Road (which turns into Deming Street) is a picturesque stretch of land that features a farmer's market, quaint homes and plenty of trees to go around. From there, the Erie Canal is just around the corner and Greece Canal Park isn't much further.
For a nice long run, try parking near Greece Canal Park, trekking down Gates Greece Townline Road and finishing by heading back down the canal and exploring the park a bit.
Here's how that looks in map form: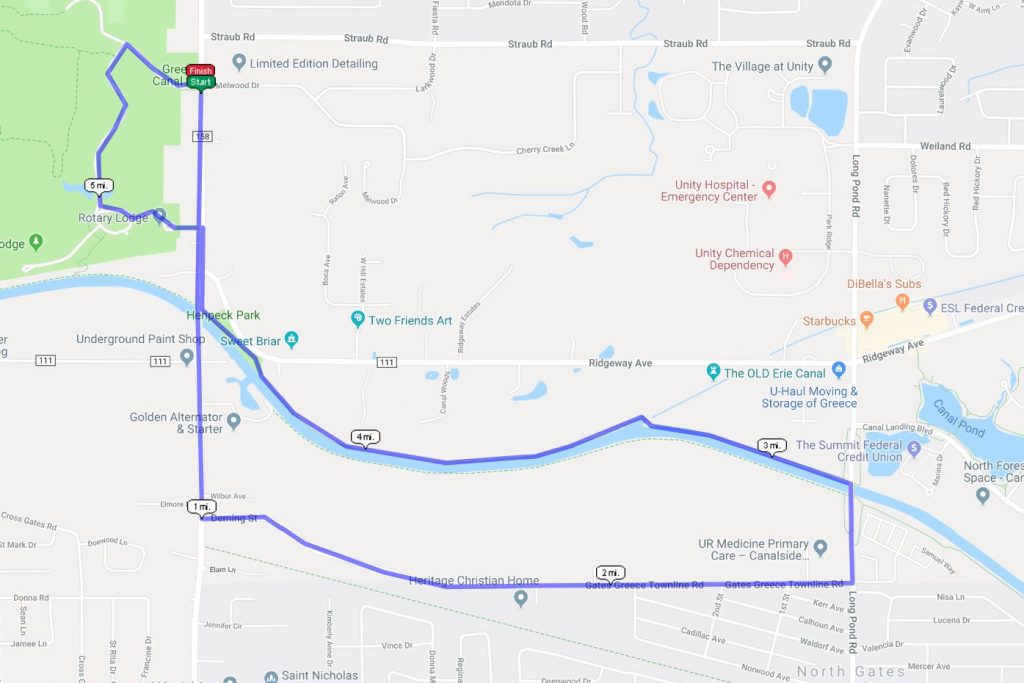 NORTH SIDE
Charlotte Beach
Charlotte is a lovely little neighborhood on the north side of Rochester, featuring cozy homes and abundant shops and restaurants. On the northern tip of Charlotte is Lake Ontario, and the beachfront area is a great place to get in some steps.
The boardwalk extends down a good portion of the beach and the pier gives a stunning view of the lake in every direction (but be careful of the other people trying to walk!). This spot is also great for people-watching. There's never a shortage of dog-walkers or beach volleyball players.
SOUTH SIDE
RIT
I haven't spent as much time in the south side of Rochester as the rest, so I'm hardly an expert. However, I've run around the perimeter of the RIT campus a few times, and I would gladly do it again.
The Rochester Institute of Technology boasts a massive campus enclosed by Andrew Memorial Drive. One complete loop on the road totals almost exactly three miles, which is great for a short run.
Feeling bold? Do several laps around the campus.
If you've ever been to RIT, you're familiar with the modern-looking area and vibrant student life. There's never an absence of activity, and you'll likely see plenty of other runners who are always willing to exchange a head-nod.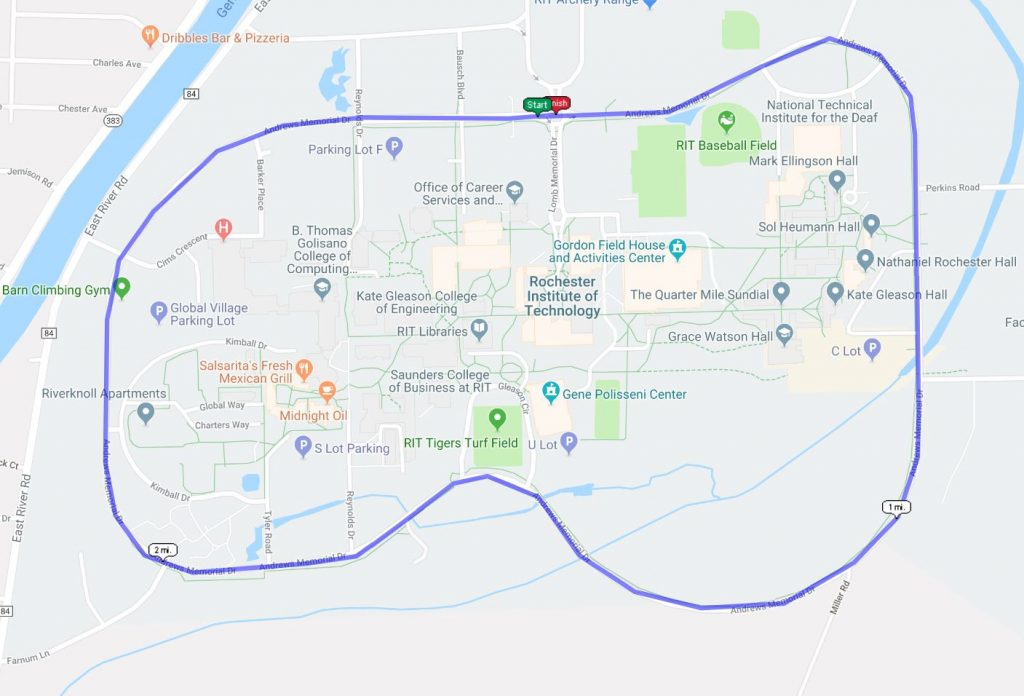 DOWNTOWN
If you're not familiar with the Corn Hill area, you're missing out.
Corn Hill plays host to luxury apartments and several nice restaurants, and its proximity to the Genesee River and Frederick Douglass-Susan B. Anthony (or Freddie-Sue) Memorial Bridge provides scenic views. Even though it's well-known for the housing and dining options, it's also a great place to burn some calories.
Run down Exchange Boulevard and the Genesee Riverway Trail (they're right next to each other) to witness the gorgeous river and townhouses in the area. If you get sick of the run, there's other things to do as well.
Check out the cardio equipment lining the street! That's right – if the run gets repetitive, try your hand at a different form of exercise!
BONUS
This one is a personal favorite, but might not be for everyone. I'm very susceptible to nostalgia, which is why I love running around…
My high school! I grew up in East Rochester, and went to the same school for pre-K through 12. Running the perimeter of my old school brings back a flood of memories, and I highly recommend it to anyone with easy access to their old campus.
Any other great running spots in the Rochester area?  Let us know in the comments below!
If not, what are you waiting for?  It's a beautiful day for a run!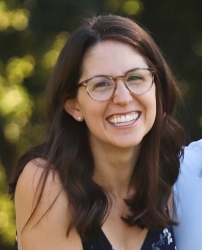 Latest posts by Erika Gruszewski
(see all)