Binghamton locals refer to the Whole in the Wall restaurant as the best kept secret on the Southside of Binghamton.  But the word is out and I was thrilled to see the place full of people when I recently visited the restaurant with my mother for lunch.
What is Whole in the Wall?
The Whole in the Wall restaurant is a farm-to-table, all-natural and organic restaurant that is located on South Washington Street in Binghamton. The restaurant is close to downtown Binghamton but far enough away to provide adequate parking.
The restaurant has a cool, funky ambience when you enter. Additionally, local art work on the walls gives it a more creative, personal feel. The seating is intimate and not too formal, which allowed us to sit back and relax while we looked over the menu.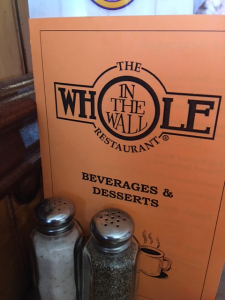 Garlic Ball – A Must Have!
We started off our meal with their famous garlic ball. It is pure yumminess!! The garlic ball is a huge fresh wheat roll, warm from the oven and is smothered in garlic butter.  It is totally worth the breath mint!!
More Must Haves
Since it was a bit of a cooler, rainy day, we both opted for the homemade cream of mushroom soup. The soup is another signature item on the menu and it surely did not disappoint.  You can tell that the soup is homemade, really fresh and just seasoned enough to not be overpowering.  I love mushrooms and they definitely did not skimp on the mushrooms in the soup.
At this point, our bellies were getting full. But as my mother reminded me, "we had to eat our veggies," so we both ordered the house salad. The salads were just the right size and filled with tomatoes, cucumbers and carrots.  Everything was very fresh and we both cleaned our plates!
Don't Miss
On our way to the counter to pay our bill, we grabbed a container of their homemade sun dried tomato pesto to take home. The Whole in the Wall chefs make their own homemade pesto in several varieties. It is sold nationwide
If you're in the Binghamton, N.Y. area, and you grab a bite to eat at the Whole in the Wall, you and your belly won't be disappointed!
The Details
 Whole In The Wall
43 S Washington St, Binghamton, NY 13903
(607) 722-5138
WholeInTheWall.com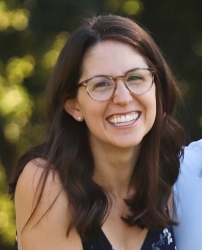 Latest posts by Erika Gruszewski
(see all)