Countless hearts broke earlier this year when dozens of fairies were evicted from their homes in Henrietta's Tinker Nature Park following acts of vandalism. The beloved fairy trail featured beautifully crafted and brightly painted doors carved into both trees and various pieces of wood.
The good news – you can rest easy! The fairies are safe and sound in their new slice of paradise – the Birdsong Trail at Mendon Ponds Park.
I recently had the opportunity to check out the fairy homes. They are brand new and tailored to the park. The inhabitants were too shy to come out and say hello, but I was blown away at how skilled they are at carpentry.
Check out the photos below to see how our winged friends live.  Don't worry, though – there are still plenty more houses and surprises I didn't include!
This slideshow requires JavaScript.
The Highlights
If you're interested in visiting the Tooth Fairy or checking out the Troll Hole, gather up friends and family and make the trek to Mendon Ponds Park.  The Nature Center sits on the corner of Pond Road and Clover Street.  There's plenty of onsite parking, so don't hesitate to load up several cars with eager explorers.
The Birdsong Trail begins to the left of the Nature Center, just past a small grass field.  Once you reach the sign, just follow the path in a square shape. It's only about three quarters of a mile. Let your eyes feast on the adorable community built into the bark.
Feeling adventurous?  Instead of following the square path, turn right once you've completed half the square to continue down the Birdsong Trail into other criss-crossing trails.  You can find a detailed map of the Mendon Ponds trails here.  No matter how far you walk, the fairy house trail is a great way to get up and moving with your loved ones!
The Details
Location: The Mendon Ponds Park Nature Center is located at 27 Pond Rd, Honeoye Falls, NY 14472. For more information, call (585) 334-6170.
Hours: 6am-11pm (park access varies seasonally)
Pets not allowed on the Birdsong trail.
Don't Miss
Once you've caught the fairy house fever (like I have), be sure to stop by the Corn Hill Arts Festival on July 13 & 14, 2019. The 7th Annual Fairy Houses Tour at the festival will feature tons of tiny dwellings built by individuals who want to carry on the fairy house tradition. Stop by and vote on your favorite!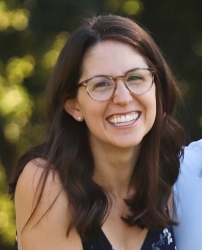 Latest posts by Erika Gruszewski
(see all)