"If we want to instill resiliency and develop children's imaginations, we need to present children with stories about long odds, big dreams, and fantastic leadership that come in all shapes, sizes, and bodies." – Jill Eisenberg, Educator
Before I had children, I used to think about how I would raise my daughter someday. We live in Rochester, in the shadow of Susan B. Anthony and the many other strong, powerful women who followed in her footsteps. What an inspiration for girls and young women!
Fast-forward several years. Today I'm the proud mother of a 12-year-old and a 14-year-old. And you guessed it; yup, both are boys.
I admit, sometimes I feel sad that I don't have a little "me" running around to teach about all of this great history. My sons, however, are amazing young men. As time goes by, I realize they are exactly who I should be teaching about the history of women's rights and how hard-fought those rights were won. And while I and many other people recognize there is still much work to be done, the 100th anniversary of women gaining the right to vote in New York state is something to celebrate.
Downtown Rochester and the surrounding area offer some great opportunities for local sightseeing and learning about our shared history. And the good news is, all of them involve walking and taking in some great scenery. Why not combine one of our beautiful fall days with one (or all) of these great opportunities?
Rochester's Heritage Trail
The City offers a 1.25 mile self-guided walking tour showing Rochester's contributions to history. There are 15 markers, plaques, and interpretive signs that tell some of the great stories that make up Rochester's rich history. The Susan B. Anthony's neighborhood, including her house, which is a National Historic Landmark, is a stop on the trail (admission to the house and museum are not included).
Rochester Public Library
Another stop on the women's history tour is the public library. The Central Library in downtown Rochester is hosting an exhibition at the Rundel Memorial Building through October 14. "Because of Women Like Her," looks at the role women, and men, played in the women's rights and suffrage movements in Rochester in the 19th and early 20th centuries. (By the way, while you're at the library, check out the secret room.)
Mt. Hope Cemetery
If you've never been, Mt. Hope Cemetery is a treasure-trove of historical information—both factual and anecdotal. The cemetery is located on Mt. Hope Avenue in the city. It is the final resting place of Susan B. Anthony and Frederick Douglas—friends who led the fight for equality. With the distinction of being "America's First Municipal Victorian Cemetery," it's easily one of the most serene, picturesque locations in the city. You can walk for hours taking in the beauty. The best way to learn about the history is on a guided tour. Volunteers from the Friends of Mt. Hope Cemetery can provide information your children will probably never read in history books or learn in the classroom. The tour season runs through October 29.
Ganondagan State Historic Site
Our area is rich in Native American history. Ganondagan is located in Victor, N.Y., about 20 minutes southeast of downtown Rochester. The site was home to the Seneca people in the 1600s. The Seneca were one of the five original nations of the Iroquois Confederacy. (I promise if you have a fourth grader or older, they can tell you about SCOOM—Seneca, Cayuga, Oneida, Onondaga and Mohawk nations!) The Seneca's matriarchal society helped inspire the 1848 declaration of sentiments that eventually lead to women's right to vote. Ganondagan is another area that boasts spectacular views that are especially enjoyable in the fall. It's a beautiful setting to learn about the contributions of women to society, walk and be one with your surroundings.
I'm a fan of the "untold story," and I'm so grateful to live an area that can provide the history of the women and men who helped build our great nation. This fall, talk a walk with your son, or daughter, through women's history
Want to do more exploring this fall? Check out Rochester's Secret Walk.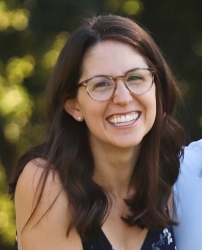 Latest posts by Erika Gruszewski
(see all)