Our family's unique Thanksgiving tradition has little to do with food or football. It has everything to do with our values, beliefs, and goals.
After we finish our turkey, and after the dishes are cleared, we talk about how we want to die.
"No pumpkin pie until you tell me how you want to die!"
I know it may sound morbid and it's often uncomfortable.  But it's necessary. Thanksgiving is actually the perfect time to have conversations like these. It's a holiday that almost everyone celebrates, and it brings the family together from far and wide.
My mom started this family tradition in 1992. She wanted to explain why she picked some of her children and not others as her health care proxies – the person who'll make your health care decisions if you're unable to do so.  She talked about factors we should consider when deciding what to do if she was incapable of making her own decisions.
My mom was brilliant in her approach to discussing a difficult topic during an uplifting holiday gathering. I hope her tips help you have similar conversations this Thanksgiving.
4 Tips for Discussing a Difficult Topic
Begin by discussing what matters most to you. My mom didn't start with a cold list of whether she wanted a certain procedure like a breathing tube. She began by discussing what made her life worth living. To her, it was being a "Babci" (grandmother in Polish) for her grandchildren.
She loved being a grandmother. She wanted to be present and able to interact with them. If that wasn't possible, she wouldn't want certain life-saving procedures.
Discuss your values. As a Catholic, she wanted ordinary – and not extraordinary – measures to save her life. She wanted a natural death. If her heart stopped beating, for example, she wasn't in favor of resuscitation.
Come from a place of love. Serving as a health care agent is a huge responsibility, and it's not for everyone. You're grieving for your loved one, yet need to be clearheaded and practical when deciding what this person would want at the end of their life. Often, you'll have to manage potential conflict among family members. It requires a delicate balance of involving everyone in the discussion while ensuring the final decision is based on what matters most to your loved one. Each of us only dies once.
My mom knew that two of my four sisters would be too emotional to handle this responsibility. At the dinner table that Thanksgiving, my mom told those sisters that, "I didn't pick you because I love you too much to put you through something you can't handle. It's a hard job and I don't want to put that kind of responsibility on you. I love you too much to do that."
I was named my mom's health care agent, and my other two sisters were named as backups. My mom explained to my sisters that my role was to stand in her shoes when making decisions and to keep the whole family in the loop and involved in the entire process. She wanted to ensure that any decisions would be based on her values, beliefs, and goals for care.
Here's one more tip that helped my family navigate these difficult conversations over the years:
Talk about stories in the news. We'd reference news stories and discuss what we'd do in these scenarios.
I remember discussing the case of Christopher Reeve, the Superman actor who became a quadriplegic after falling from a horse and breaking his neck in a riding accident. My son said he'd be OK living as a quadriplegic as long as he was able to think and interact with others. My daughter, however, wasn't so sure since Reeve benefited by having a lot of money to help make his life functional!
Resources to Help Guide Conversations
As you've realized by now, these are difficult conversations. (To help, there are a variety of resources and tools available at CompassionAndSupport.org)
One of the resources is a document that lists what to keep in mind when choosing a proxy.  The person, for example, must be willing to talk to you NOW about your wishes. If the person is uncomfortable talking about it now, then he or she won't be able to do so when you need it the most.
During our Thanksgiving talks, we also take the extra step to review our individual Advance Care Planning documents to make sure they reflect our current feelings. We have blank forms on hand in case new documents need to be completed and witnessed.
For individuals with serious or advancing chronic illness, there's also a document called Medical Orders for Life Sustaining Treatment (MOLST), and an electronic version called eMOLST. MOLST is recommended for those who want to further define their wishes for medical interventions, including resuscitation. The MOLST form is legally approved and has to be followed by all health care professionals including emergency medical services (EMS) personnel across New York State.
Regarding that first Thanksgiving talk, I still have a funny photo of my sister's husband. He had a hand to his head and a "what are these people talking about!" look on his face!
But it turns out these annual Thanksgiving conversations were invaluable as he suffered through his own terminal disease years later. He was seriously ill, undergoing aggressive treatments, not very mobile and living in a nursing home. He recalled these Thanksgiving talks, and how he discussed the importance of living his life to the fullest in the end. Additionally, he wanted to spend time with his son. That's how he decided to leave the nursing home and switch to treatments that were less aggressive. Making these choices helped him enjoy what he had left of his life.
I encourage your family to adopt our Thanksgiving tradition.  Save your family possible heartache and turmoil in the future by discussing and documenting each family member's thoughts and views on a difficult, but necessary topic.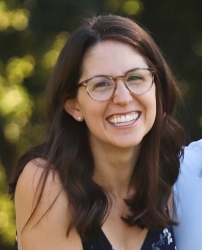 Latest posts by Erika Gruszewski
(see all)