You've probably heard the expression, "When pigs fly." Umm, now they can. And, miniature horses can too. So can monkeys, dogs, cats, and all sorts of other "emotional support" animals. Daniel, a certified emotional support duck, made news on a recent flight, traveling with his human companion who had a fear of flying. As it turns out, pets are a great source of comfort and therapy for a lot of us.
The use of emotional support animals is not without controversy. Believe it or not, some airplane passengers may not be too excited sharing their arm rest with Hamlet the pig, Gizmo the marmoset, a turkey, kangaroo, or some other furry or feathered friend. Needless to say, there continues to be discussion about where they're allowed and under what conditions.
Still think you need to bring your pet dog, cat, or hedgehog along for support on your next flight? The process starts with supporting documentation from a licensed mental health professional stating that you're emotionally disabled. Then you'll follow steps to legally qualify them as an emotional support animal.
Does the dog make house calls?
It turns out that "man's best friend" may be one of man's best weapons against depression.
Picture yourself in the hospital recovering from an injury. You're feeling a little bit depressed. All of a sudden, in walks a dog and their handler. You're a little thrown off at first, but you go along with it. "What's his name?" you ask. "It's Buddy." you're told. "He's a therapy dog." Buddy sits down next to you, patiently looking up. You instinctually start petting him. After a few minutes, you start feeling a little bit less anxious "So, how often does Buddy come around?" you ask. Before you know it, you and Buddy are…well…"buddies." Just like Humphrey Bogart said in the classic movie Casablanca , "This could be the start of a beautiful friendship."
Cats are good listeners too.
Lollypop Farm, the Humane Society of Greater Rochester, NY, provides shelter for homeless or abused animals and programs to help pets. They also feature pet assisted therapy programs, including Reading Education Assistance Dogs (R.E.A.D) where registered therapy animals (along with their owner/handler) visit schools and libraries to help kids struggling with their confidence.
Their Book Buddies program also gives kids the chance to read their favorite books while cozying up to attentive cats waiting for new homes. "These programs provide goodwill within the community," said Kim Gandy, Lollypop Farm Board Member. "Animals always seem to understand what is going on and provide comfort." It's also a great way to find a home for your new furry friends.
Pet therapy has a role in all phases of life
Pet therapy is a broad term that includes animal-assisted therapy and other animal-assisted activities. It's a growing field that uses dogs, along with other animals, to help people recover from or better cope with health problems, such as heart disease, cancer and mental health disorders. Several studies have reported that interacting with therapy animals produced beneficial results.
Sure, pets are great companions. But studies show that they can make us healthier. Interacting with an animal—playing, caring, or just petting it—has positive effects on us, from creating a sense of calm to providing a sense of purpose. It may also be a reason for an increasing use of animals — dogs and cats mostly, but also birds, rabbits, fish and even horses — in settings ranging from hospitals and nursing homes to schools, jails and mental institutions.
Many hospice organizations use animal companionship as a form of therapy. Pet therapy in the hospice setting uses the natural bond between humans and animals to provide comfort, peace, and soothing companionship to terminally ill patients. There are many physical and emotional benefits brought to those facing their end-of-life journey. Last year, the Today Show featured a story that went viral about JJ the hospice therapy dog who consoled a patient nearing the end of their life. These interactions can help reduce feelings of loneliness and depression and lessen levels of anxiety.
So, where's it all headed?
There's been a lot of attention lately about those ducks and pigs on airplanes, but  the health benefits of pets do help humans overcome, or at least cope with, health problems (both physical and emotional).
Early research has shown that equine therapy (interaction with horses) improves symptoms in Alzheimer's patients. Other research has found a reduction in anxiety and depression in those with Alzheimer's.
The bottom line is that more study and data are needed before more many health professionals regularly recommend it as an alternate form of therapy. For now, anecdotal benefits include increased self-esteem, improved mental health, better social skills and increased empathy and nurturing skills for many who have used it.
So if you're ever sharing an armrest on a flight with Buddy, Hamlet or Daniel, rest assured that pigs (monkeys, ducks and other animals) really can fly.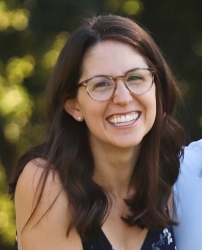 Latest posts by Erika Gruszewski
(see all)