Ever since I turned 40, each year in December I would go to have my annual mammogram. I usually scheduled my screenings during a weekday where I would take a few hours off from work because I chose to wait and stay for my results. While I felt comfortable going to my appointment alone, the clinic I attended had a friendly environment where women could schedule their appointments within the same time frame. I would always see groups of women, mothers and daughters, friends making a girls' afternoon out of their screening.
The Longest I Had Gone Without A Mammogram
Last December, I missed my appointment. I knew I needed to reschedule, but as 2020 began, I didn't follow through. When the pandemic started, many doctor's offices, including mine, were closed temporarily. After my clinic reopened, I found myself focusing on other priorities and pressing stressors, like the virus, changes to my personal and professional life, and racial and social unrest in my community. Still, deep in the back of my mind I was feeling guilty because this was the longest I had ever gone without having my mammogram.
A Strange Pain
One night this past July before I was to travel out of town, I felt a strange pain in my left breast. As someone who is very in-tune with my body, I knew I had never felt pain like that before and I didn't take it lightly. While I was out of town, I continued to feel the pain in waves, wondering what it was. Was I stressed? Was it the need for a new bra? But I also wondered what if it was cancer. Then the pain went away.
About two weeks later, the pain came back on a Sunday night. It was more intense. I vowed that first thing Monday morning I would schedule a mammogram. I remained positive and hopeful the screening would help to find anything early enough to be able to address it.
A Sense of Serenity
I called my clinic on Monday morning and, due to a patient cancellation, I was able to come in that afternoon for a screening. The waiting room was no longer filled with women sipping beverages and socializing. Instead, the process was streamlined, and the screening was very efficient. The environment was clean, spacious, and the new procedures were clearly explained. I felt safe.
Mammograms are never pleasant, but the mammogram technician lightened the experience with her professionalism, competence, and friendliness. Patients can no longer wait for their results: I would receive them in a text message. I dressed and waited outside for my ride. As my ride was pulling up, I received a text message saying my results were normal. I felt a sense of serenity and joy and was impressed with the speed of communication.
Breast Cancer Disparities
In addition to feeling joy and relief with my results, there was something else on my mind throughout my appointment. The pandemic has brought to light many injustices that have long been part of our society, including health disparities.
A racial disparity has long existed around breast cancer. According to the American Cancer Society Cancer Action Network (ACS CAN), black women are about 40 percent more likely to die from breast cancer than white women, even though their rates of getting the disease are similar. Black women are also more likely to be diagnosed at a later stage of breast cancer than other women (Source: ACS CAN). According to BreastCancer.org, these disparities likely reflect a combination of factors including differences in healthcare. As a society, we are finally having some powerful conversations that I hope will bring about positive change and reduce these disparities.
Schedule Your Screening
Looking back, I think that the strange pain I experienced was related to the increased stress I had been feeling related to the virus, the new changes in my life, and the unrest in my community. I have since adapted some stress management tactics that have been helping me, and I remain pain free.
It can be easy for health screenings, like mammograms, to fall to the bottom of the priority list when we're challenged with the stressors of daily life. Not to mention the added stress of a global pandemic. Prevention is my passion and timely screenings are one part of a healthy lifestyle. Therefore, this October, I challenge you to schedule a screening that you may have missed, whether it be a mammogram, a colonoscopy, or even your annual physical. If this year has taught us anything, it is that we should fiercely prioritize our health and be more empathetic to the needs of our most vulnerable. Let us be there for ourselves and for each other.
For more information about mammograms, view a downloadable poster, Be the Priority, from Excellus BCBS. If you need help reconnecting with your doctor, visit ExcellusBCBS.com/Reconnect.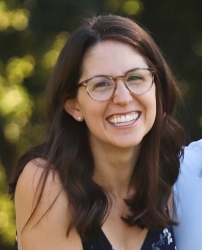 Latest posts by Erika Gruszewski
(see all)