Alana Hughes wants to inspire you to feel your best and live a life you love through fitness.
Alana turned around her health years ago by losing about 40 pounds and embracing a healthy lifestyle. Those positive changes inspired her to start H2 Fitness, a full body "boot camp" program, with her business partner and best friend, Juvar (JT) Houston. Together, they teach fitness classes throughout the city of Syracuse and surrounding areas.
Soon after starting the business, Alana was diagnosed with Lupus. But she never let that stop her from being fit and staying positive.
What are you trying to do?
H2 Fitness is on a mission to get our city fit. Fitness is fun! It's not just about the push-ups and the sit-ups. It's about changing the way you feel about yourself mentally, emotionally and physically. When you feel good, you do good.
We try to create a fitness community. That's why we call ourselves "the fit family." We kayak, hike and run 5Ks with our clients in addition to just training. When you're supported by a community, you can exceed your goals and expectations.
What motivates you to keep up with your fitness schedule?
Before we started H2 Fitness, I was a client. I was overweight and I didn't feel good about myself. JT was actually my trainer. With his help, I lost about 40 pounds. I felt much better and was a lot more active. Now, I could play with my nephews and not be tired. I could go to parks and on bike rides and things like that. I loved that feeling. That's what keeps me motivated. I don't want to lose that feeling.
You've shared a lot on the challenges of being healthy when you have an autoimmune disorder, such as lupus. How do you manage to stay fit while also managing your condition?
Before I got into fitness, my joints would swell so much that I couldn't walk. At the time, I didn't know what it was. My doctors had me wear a boot and walk on crutches. It got so bad that I was using a walker. I was even in a wheelchair for about two weeks because the pain was just too much.
Later, after we started H2 Fitness, I was diagnosed with lupus.
Lupus can be tough. It's unpredictable. I try to avoid sugar, processed food and stress. Exercise helps by keeping me strong. But everyone is different. What works for one person won't necessarily work for another. Everyone has to work at their own pace.
How do you make sure you don't push yourself too hard?
Get to know your body. If your body is telling you that you are tired, then you need to rest.
Don't forget to appreciate the little things. Stop and smell the roses. Look at the sky. Enjoy the sun. Even in the wintertime, enjoy the beautiful snow.
Healthy eating can be a challenge. How do you stay on track?
On Sundays, I try to prep my meals for at least the next three days. I prep my breakfast, lunch and dinner, plus my snacks and drinks– usually water or some kind of smoothie. On a Wednesday or Thursday, I prep again for the next few days.
Buying in bulk and prepping my meals saves me money. A lot of people say that eating healthy is expensive, but I don't think that's true. I think when you don't plan it can be expensive.
Any words of encouragement for those just starting out?
Just get started. You're already taking the first and hardest step by just showing up. The first day will always be the toughest. But don't stop! Once you push past that first day, it will be behind you. The exercises don't become easier, but you'll become stronger.
Remember, whatever you set out to do, you can accomplish it. Nothing worth having comes easy. Just keep working, and know that we're here to support you. Whether I know you or not, I want you to feel better, live better, and be happier!
What are your favorite Outdoor workout tips?
I recommend taking advantage of whatever is in your surroundings. If there are stairs, run them, jump up them, do leg exercises. If there's something to run around, like a lake or a reservoir, run around it!
Where is your Favorite place to work out in Syracuse?
The Woodland Reservoir in the Strathmore neighborhood of Syracuse. It's absolutely beautiful there, and you can get a great workout. When you are at the top of the hill you can see the whole city. You can work out on the hill and stairs, and it's just gorgeous.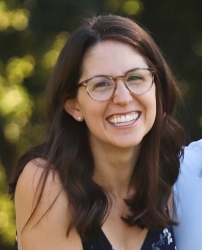 Latest posts by Erika Gruszewski
(see all)