I've had the following conversation, or one very similar to it, every August for the past few years upon my return from participating in the annual Lake Placid Summit Lacrosse Tournament.
"What did you do this weekend?"
"I was up in Lake Placid playing in that giant lacrosse tournament they hold up there every year."
"Wait. You're … how old?"
"I'm 48."
"Aren't you a little too old to still be playing lacrosse?"
Yes, I'm older than 40. Yes, I still play lacrosse.
No, I'm not too old to play. In fact, the Summit tournament features hundreds of players my age and older who still play at a high level of competition and intensity. We may not be as fast as we were a decade or three ago. But we play hard and test our bodies and minds against, not only the competition in front of us, but also the very real and inevitable forces of the aging process.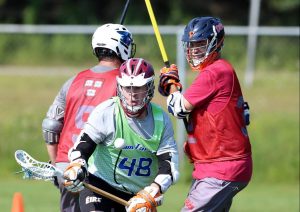 Thus, we're not blind to the prospect of injury. Even when we were much younger and playing college level, we knew we could get hurt, and many of us did. But now, we older athletes (many of us falling into the "weekend warrior" category) contend also with extra body weight and somewhat sedentary lifestyles that can readily contribute to pulled muscles, ligament and joint issues, or worse.
Fitness After 40
We can't stop the aging process, obviously. But what we can do is ensure we're making better decisions for ourselves that lead to a healthier, more active lifestyle to better prepare our bodies and minds for sports.
There are four things that I believe will help us be prepared for sports even at age 40 and above.
Realistic goals as we age
One of the main factors in one's abandonment of a healthy lifestyle or fitness routine is the setting of unrealistic goals.
An all-too-common scenario: You set a New Year's resolution saying you're going to get in shape and hit the gym five times a week. Next thing you know, for a few weeks in February, life got in the way and you haven't been to the gym in two weeks.
You failed to keep your resolution, so it's time to give up, right? WRONG. Just brush yourself off and get back on the horse. If you can only get to the gym three times a week, or two, or one, that's better than nothing. Persistence is key. Here's an article from Self magazine that discusses using the "SMART" method for setting your fitness goals.
Don't be duped. Real food for fitness after age 40
It's harder than ever –since we no longer grow, raise or prepare most of our own food–to eat well.
With high fructose corn syrup, added sugars, saturated fats and processed, calorie-dense, nutrient-deficient foods dominating every grocery store aisle and restaurant menu, how do we properly feed and fuel our bodies these days?
Unfortunately, there is no easy way to do it. You must educate yourself about our food supply. Learn how to really read food labels and ingredient lists, both what they tell you and what they don't.
Then skip all the garbage (including garbage that is marketed as being healthy, such as sports drinks, diet soda, smoothies and breakfast cereals) and feed yourself real, nutrient-dense foods. Perhaps most importantly, watch your portion sizes. Read this article from Healthline to learn how not to be duped by food packaging.
Exercise
We're learning more about the importance of regular exercise to stave off chronic health issues that can befall us as we age. Simply put, get moving. Being healthier can be as simple as standing up. For more ideas, read 50 Small Changes for a Healthier Life.
Flexibility and stretching are also important. Take a few minutes to stretch in the morning and at night. Even better, take a yoga or Tai Chi class. Both are great for mind as well as body. Lastly, lift weights. Resistance training builds muscle, burns fat, contributes to heart health, and builds bone density. Livestrong.com offers this excellent slideshow of 20 great bodyweight exercises, and this Telegraph article offers many insights into staying fit after age 40.
Prepare and play smart
So we don't move as fast as we used to, but we're wiser, right? If you're pushing age 50, don't expect to blow away the competition with speed and skill.
You have to think.
My Potsdam College lacrosse coach used to bring us out on the field hours before game time to let us walk around the field and visualize ourselves being successful and playing well in the game.
Focus and peace of mind don't occur naturally for any of us. Getting enough sleep, participating in hobbies (which contribute to learning, problem-solving, and concentration), and taking the time for meditation, reading and other activities that clear one's mind should be a cornerstone of your daily living.
Leading an active lifestyle with a body that's nearly a half-century old is not for the faint of heart. But it's only as painful as you let it be. Get some exercise, eat right, and treat yourself well, and the dividends will come. Just keep at it.
As the late Five-Star General Douglas McArthur once said, "Age wrinkles the body; Quitting wrinkles the soul."

Latest posts by Edward Byrnes
(see all)