I have an odd habit that's good for my health, but seems to make others uneasy.
I have a tendency to stand, even when asked to sit.
You might not think this is odd. Especially since sitting too much could put us at risk for serious health issues, including heart disease and diabetes.  This is true for people who even exercise regularly.
But my tendency to stand seems to create a lot of confusion.
Stand Whenever You Can
Whenever I walk into my hairdresser's, for example, she always says, "Take a seat."
But I don't. I stay standing.
I stand when I read the paper, wait at the doctor's office or nail salon, fill out papers or read something on my phone.
The other day a friend and I were waiting for another friend to go for a walk. While we were waiting, my friend asked if we should sit. I said, "No! We're about to go for a walk! We're not sitting!"
My new approach to standing
But I may need to take a slightly different approach to my standing habit.
My hairdresser, for example, said my standing while waiting makes her nervous. I'm making it seem as if I'm impatient, that I need to be helped right away.
That makes complete sense. It's probably why I get all these odd looks whenever I'm asked to sit, and I don't!
From now on, when I'm asked to sit, I may say, "Thank you, but I'm just better off standing."
Maybe that'll lessen everyone's uneasiness? But we do need a culture shift. If people stood more, fewer people would ask why I'm standing!
Other ways to stand more
If you need more tips on how to stop sitting so much, read "Is being healthy as simple as standing up?"
I'd also love to learn more about any ideas you may have on ways to stop sitting so much! Please add your thoughts to the comments section below.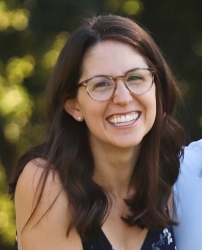 Latest posts by Erika Gruszewski
(see all)