WE ALL SCREAM FOR…
Gelato! This summer, we discovered a small gelato shop that is now my family's favorite go-to destination when we're craving a sweet summer treat. We plan to celebrate national ice cream month this July by indulging in a cup of creamy gelato. With which frozen treat will you celebrate? Leave your thoughts in the comments section below.
THE SCOOP ON FROZEN DESSERTS
You can indulge in many choices when it comes to frozen desserts. Here are a few ideas to get you dreaming about your next trip to the creamery:
Ice cream
Made out of milk and cream, you can scoop hard ice cream from a container or get soft ice cream from a machine.
Frozen custard
Egg yolk is one of its secret ingredients, giving custard its smoother, creamier texture. (Beware if you have an egg allergy). Custard is a Rochester tradition since 1926.
Gelato
Contains more milk than cream and is lower in fat compared to ice cream. This, along with adding less air when mixing, gives gelato a more dense texture and intense flavor.

Sherbet
If you like fruit flavor (or the taste of a rainbow) try this milk-based.
Sorbet: Contains frozen juice or fruit and ice. This is usually a great non-dairy option for those who are lactose intolerant.
Frozen yogurt
This may be a lower-fat option depending on the fat content of the yogurt. Check the label before you buy. Greek frozen yogurt is now available if you prefer the taste.
Mochi
These are sticky rice cakes filled with ice cream. Flavors like green tea and red bean are a great end to a meal at a Japanese restaurant.
Kulfi
An Indian frozen dessert that typically contains condensed milk (or milk that's been boiled for hours) and other ingredients like pistachios and/or the spice cardamom. Kulfi can be similar in consistency to custard.
The flavor
American's favorite flavor has been and continues to be vanilla. There are so many crazy flavors out there. I liked the taste of salted caramel that I tried at a local "Artisan" ice cream shop, but was not a fan of caramel bacon. Ask the shop for a taste before you buy. Most places have small spoons just for this purpose.
Toppings!
My family is partial to rainbow sprinkles. We tend to pass on the whipped cream, but wouldn't say no to hot fudge. I found this fun article in Delish magazine that says my topping choice means I'm playful and traditional.
Don't forget the cone. Waffle, sugar, plain: it's a hard decision. We prefer my kids get ice cream in a dish so it won't spill, but they always ask for the cone on top so they don't miss out on the crunchy extra.
Where to go
Buying ice cream in the grocery store will cost you less per serving. There are also many unique flavors to choose from and some companies support the local community or donate to grassroots causes. Or, read this list of ice cream shops to check out this summer.
My family enjoys the experience of going to an ice cream shop as much as the ice cream itself. We can walk or ride our bikes, and even bring our dog along. Quick tip: If the store is too far from your home, try driving part way and walking the rest.
Moderation is the key. When you bring a tub of ice cream home, it's tempting to go back for more and overeat. Try to stick to one serving. When at the ice cream shop, try a kid's size or baby size serving. You can always swap out ice cream for sherbet if you want a healthier treat.
At Home
Ice cream is relatively easy to make at home. You can purchase an ice cream maker at any household retailer. At home you have control over the ingredients and can experiment with new textures and flavors.
Beyond ice cream, if you freeze overripe bananas and add other frozen fruit you can create a healthy, refreshing treat in your blender or food processer. And don't forget what's most important: Enjoy!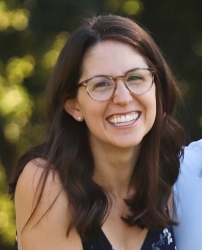 Latest posts by Erika Gruszewski
(see all)