Jack J. Stout decided he didn't like his weight gain and cholesterol numbers. What did he do to get healthy? He ran the New York City Marathon.
The New York City Marathon has been a dream for Stout, but it's a challenging race to get into.
"Everyone thinks the Boston Marathon is the hardest race to get into, but it's not. The New York City Marathon is a lot harder," Stout said.
To qualify for the New York City Marathon, however, you have to be in an elite class of runner.  Stout doubted he'd be able to do that. He could enter a lottery for a spot in the marathon. But he had tried that before and it never worked out.
Stout went for a third option.
Down Syndrome: The right cause at the right time
You can enter the marathon if you commit to raising at least $2,500 for certain charities.
After years of working at Excellus BlueCross BlueShield, Stout said that option inspired him the most. His friends and coworkers were always volunteering in the community and fundraising for causes they believed in.
"My co-worker, AJ Hameline, has coached so many new runners here. Kim Christman has also committed so much time and energy into the community, it was inspiring." Stout continued, "My team really added to the inertia of this."
After being inspired, he decided to run for a cause. "I could never have had the courage to do this at any other company," he added.
Stout partnered with an organization called LuMind RDS to raise funds for research and resources for those affected by Down Syndrome.  By getting involved, Stout became more aware of other organizations that locally support the Down Syndrome community.
Stout decided to partner with LuMind RDS because his best friend's son, Simon, has Down Syndrome.
Stout had watched his friend's family and learned of the challenges and support systems surrounding the Down Syndrome community.
"I had tried to run the New York City Marathon for almost 10 years, but I lacked motivation or the timing wasn't right," he said. "To have my Simon come into our lives, it provided me with an avenue to find that motivation and drive. This is the right cause at the right time, plus Simon is amazing; it's impossible not to find ways to be supportive."
 Why Stout pledged to raise $3,210 at the marathon
Stout signed up for the race and pledged to raise $3,210 to support those living with Down Syndrome. He picked that amount because Down Syndrome is caused by an individual being born with three of the 21st chromosome. The numbers three and 21 are meaningful in the Down Syndrome community.
At first, it was hard for Stout to ask others to donate money.
"You have to be humble enough to say, 'I can't do this alone,'" Stout said. "I was often almost apologetic at times when asking for support. But many friends said, 'Jack, we aren't doing this just for you, we are doing this because we want to do this, because it's such a great cause.'"
On the day of the race, Stout surpassed his goal and was able to raise $4,655 for Down Syndrome research and support. The cause helped Stout to power through the race.
"I took on this challenge because I was inspired by Simon," said Stout, who also had Simon's name on his shirt during the run. "There were portions of the race when you're really hurting, but hearing, 'GO SIMON!!!' gave me a huge lift."
Another healthy twist to running the marathon
Stout said it felt surreal standing at the starting line after all the time he put into this effort.
"I spent a year preparing for this moment," said Stout, who ran the race on Nov. 4, 2018.
"I ran more than 1,000 miles to prepare for this and now I am shoulder to shoulder with about 51,000 other runners who all gave up so much to get to this place," he added.  "I felt so fortunate to be able to get to this place and be part of it with so many other people."
Not only did Stout succeed at raising funds for the Down Syndrome community, but he also improved his health by losing about 30 pounds and lowering his cholesterol by 50 points.
"It didn't matter what happened during the race or what time I ended up running across the finish line," he added. "My journey to get here was much more rewarding. You can always find reasons why you can't or shouldn't do something.  Just take the leap, be fearless and jump in!"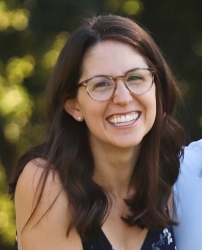 Latest posts by Erika Gruszewski
(see all)