I'd been in the car seven hours with a cranky toddler, fussy first grader, and tired hubby. Even I was out of sorts. But then I turned into a new rest stop on the New York Thruway and all was right with the world.
This rest stop was unlike any others I'd ever seen. It was hidden from the highway, so no blaring fast food signs alerting you to the chance to fuel up, grab a burger or hit the restroom. I turned down the winding road, and then the seas parted to reveal exactly what my family needed at that very moment.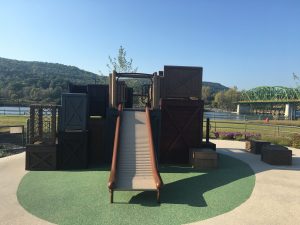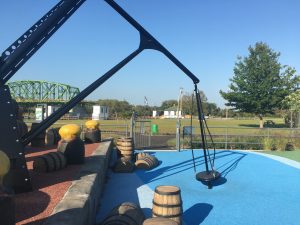 We had stumbled upon the best playground ever in the most unlikely spot, the Mohawk Valley Welcome Center (formerly the Lock E-13 Living History Rest Area). It opened earlier this year. You can find this hidden gem westbound on the Thruway between exit 28 in Fultonville and exit 29 in Canajoharie.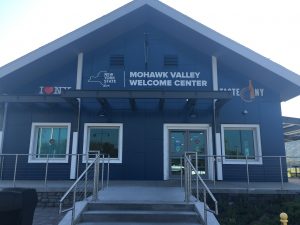 As a Thruway veteran, I declare it's by far the swankiest rest stop I've ever seen. The center features local food and beverages, interactive kiosks promoting the state's tourism industry and, of course, a very cool playground.
Why it's the best playground
Here's why a rest area might be my new go-to stop on the Thruway:
An actual playground along the Thruway? I can break up long trips and let my kids release pent-up energy without having to leave I-90? Enough said.
It's designed with kids in mind—from the best soft and bouncy playing surface to the quality materials and design of the play equipment. My kids loved the playground's canal theme (see photos.) As my youngest climbed through a boat, my husband echoed what I was thinking. "This is the best playground ever."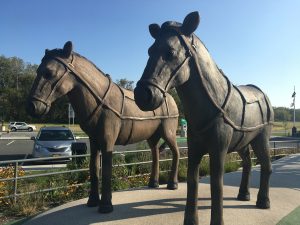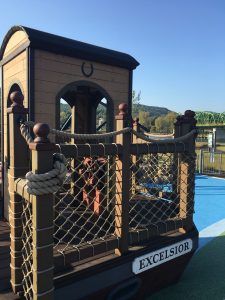 3. The playground was set against the beautiful backdrop of the Erie Canal and Mohawk River. (Plus, my kids got to see a boat go through the lock!)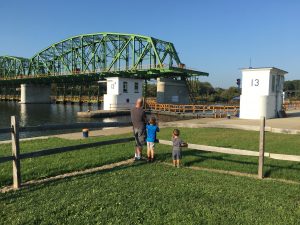 4. There's lots of space for kids to run along a path that ran along the canal.
Not for kids only
Adults can have a lot of fun, too. The scenic area is the perfect place to take a stroll, and read the markers along the way that highlight the area's historical past. In addition, there's also electric vehicle charging stations, a covered porch overlooking the canal and pet comfort areas.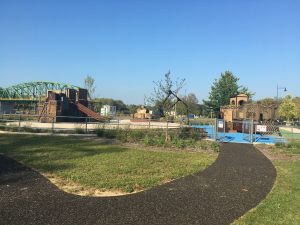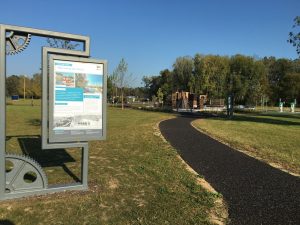 A place for people with disabilities
Finally, the playground is ADA compliant. Also, people with disabilities make up some of the rest stop employees. For example, Liberty ARC, a not-for-profit serving people with disabilities, provides some of the staff.
Where is your favorite playground?
My oldest son agreed that the rest stop playground was pretty cool – but that there was another he loved more. His ultimate, all-time favorite place to play? The new Jack's Place playground at Rothfuss Park in Penfield in Monroe County. He loved the playground's dinosaur theme.
Where is your favorite playground? Share in the comments section below.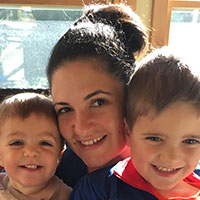 Joy lives in Ontario County with her boys (two sons and her hubby). She runs to stay sane and spends lots of time with her boys splashing in their creek and catching frogs and snails. She is a New England native who promises not to share her sports allegiances, although as an alumna of Syracuse University, she loves (loves) SU sports! Joy is a corporate communications manager at Excellus BlueCross BlueShield.