When Jack, 5, saw the aisle full of backpacks, he loved the ones covered with his favorite characters from Paw Patrol and Star Wars.
Jack's mom, however, searched for a pack that wouldn't strain the back of her soon-to-be kindergartener. She looked for satchels with thick, cushioned straps, and settled on a Star Wars bag featuring the droid, BB-8.
School is already in full swing, but it's not too late for parents to get a good grade in helping their kids avoid backpack pain.
Yes – backpack pain is a thing.
Here's how Brian Justice, D.C., a chiropractor and medical director at Excellus BlueCross BlueShield, suggests avoiding any pack-related issues for your little ones:
Pick a backpack with broad, cushioned straps that won't dig into the shoulders.
The thicker the straps, the better. Smaller straps may worsen strain on the shoulders.
Pack strategically. Place the heaviest things (we're looking at you, history books) toward the back of the backpack, which is the side closest to the body. This will distribute the weight, making it easier to carry the backpack.
Don't overload. The weight of a backpack should be less than 10 percent of body weight. So if your child weighs 80 pounds, his or her backpack should weigh no more than 8 pounds. If the backpack is too heavy, consider removing some of the larger books.
Use both straps and keep them tight. Slinging a backpack over one shoulder could create problems, because the weight is unevenly distributed. Make sure the straps are pulled tight. The closer the backpack is to the body, the better. Don't allow the backpack to sag and strain the shoulders.
Focus. Take the time to put on, or take off, the backpack. Throwing the backpack on while running out the door may trigger back problems.
In Jack's case, the BB-8 backpack was an obvious choice, but it wasn't because of the thick, cushioned straps. It was because of the tiny lights that flashed whenever he pressed a button on the droid's head.
For more advice on avoiding backpack pain, visit:
http://kidshealth.org/en/parents/backpack.html#
https://www.healthychildren.org/English/safety-prevention/at-play/Pages/Backpack-Safety.aspx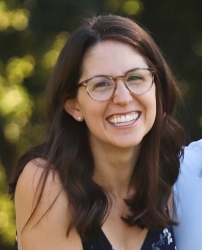 Latest posts by Erika Gruszewski
(see all)