A co-worker recently faced the reality that she had to floss. Cavities were likely on the horizon if she didn't, her dentist said. She later discovered that she hated flossing because she "always had the cheap stuff around."
My colleague started using Oral-B Glide floss and loved it. "It's so gentle on my gums that I actually look forward to flossing my teeth," she said. She now keeps flossing picks in her car and purse and at her desk.
We do a lot for our health. But there's one thing a lot of us don't do. We don't floss.
Find Your Habit
I can count on one hand the number of people who "like" to floss. Since a lot of us didn't floss as kids and we've had to adopt the practice (or not) as adults, it might not be an established habit.
Not that it's hard to do. And the benefits of flossing certainly outweigh the little time and effort it takes to run a piece of floss between our teeth.
The trick is to find a way to make flossing a habit. I know a few others who've found odd ways of doing just that.
One co-worker confessed to flossing when she watches TV.
Another work colleague flosses in the shower. (Note: You use regular floss or buy an appliance that attaches to your showerhead and works like a Waterpik®.)
Whether you floss before or after brushing your teeth or in the morning or at noon or night, make it a daily habit. Click here for 5 Steps to a Flawless Floss.
Is It Vanity? Or Is It Your Heart?
Are you still unwilling to floss, even while distracted by your favorite TV show? If so, let me share some scary thoughts about what could happen:
Have I scared you into flossing yet?
Thousands of Choices
Therein may be the problem—finding the "right" flossing material. And it doesn't have to be "string." In a search for floss, Amazon.com lists thousands of products on 40-plus pages.
There's regular floss, waxed and unwaxed, and floss tape that comes in a variety of flavors from mint to cinnamon. Bacon flavor, anyone? Under the category of "I'm not making this up," Dr. Tung's Smart Floss in cardamom flavor rates five stars from 467 reviewers.
Once made of twisted silk, today's floss is made of nylon filaments or plastic monofilaments. Some people swear by floss made of coconut fibers.
To make the task easier, some favor floss holders, interdental picks, floss threaders, tiny brushes, wooden plaque removers or expanding floss.
You can encourage kids to floss by modeling it yourself. Start them when they have two teeth that touch. Because flossing requires manual dexterity, you'll probably need to help them until they're around 8 or 9.
If you wear braces or have implants or bridges, special flossing holders are available. There's one alternative to manual flossing, i.e., using a device such as a Waterpik. An abstract in The National Center for Biotechnology Information cited a study that compared the two ways of removing plaque from teeth. The authors concluded that oral irrigation is an effective alternative to dental floss.
Family Affair
Does the family that flosses together stay together? One of our department interns said that her parents and siblings are so committed to flossing that they keep the stuff handy near the dinner table.
Just don't floss in public, as Amy Dickinson in her "Ask Amy" column calls it "personal care" and doing so in a restaurant is "disgusting." Now, what are you waiting for? Start flossing, but, please, do it at home!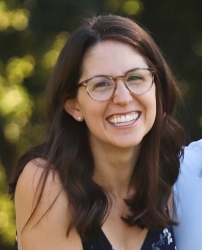 Latest posts by Erika Gruszewski
(see all)