It started with a slight pain in my heel about a week before my wedding. My heel hurt when I walked barefoot around my apartment, or when I'd slide my foot in or out of my shoes. I figured it would go away on its own. I waited.
The pain didn't go away. It got worse. I was in pain whenever I walked.  Finally, I went to the doctor. I learned I had plantar fasciitis, a common cause of heel pain that involves inflammation in your foot.
I didn't know much about the treatment of plantar fasciitis. So, when I went in for my appointment, I armed myself with "5 Questions to Ask Your Doctor."
Start the Conversation With Your Doctor
These "5 questions" are part of a national initiative by the American Board of Internal Medicine (ABIM) Foundation. The questions help patients have more informed conversations with their health care providers to make sure they get the right care. Some medical tests, treatments, and procedures provide little benefit, and in some cases can even cause harm.
Here are the five questions to ask before having any test, treatment or procedure.
1.  Do I really need this test, treatment, or procedure?
There's often more than one way to treat or test for a health condition. For the treatment of plantar fasciitis, I learned that options included over-the-counter pain relievers, steroids, or a cortisone shot. Others may recommend stretching, massage or extracorporeal pulse activation treatment. The best treatment for you will depend, among other things, on the seriousness of your condition and your preferences.
2. What are the risks?
It's important to learn about the risks, side effects, and possibilities of additional testing or procedures. One doctor, for example, suggested I get a cortisone shot. But then I learned that getting a cortisone shot could reduce the pain, but it also had risks like the possible tearing of the tissue in my foot.
3. Are there simpler, safer options?
Sometimes lifestyle changes, like resting, eating healthier or exercising, may be good first steps to treatment. For me, adding a daily stretching routine helped reduce the pain that I was feeling.
4. What happens if I don't do anything?
Ask if your condition is likely to get better or worse if you don't have a treatment or test right away. I learned that I couldn't expect to get better without taking some action. When I finally found sneakers with the proper arch support for my foot, I started to feel less pain right away.
5. How much does it cost?
Different treatment options usually come with different costs. Ask about the cost of all your options, what your insurance may cover and about opportunities for generic prescriptions or prescription home delivery.
Partners on the same team
I ended up talking to two different doctors to assess my options. After having the conversations with the doctors, I felt that I better understood my condition and was more empowered to make treatment decisions that worked for me.
I also felt like my doctor and I were partners on the same team because of our conversation. Don't be afraid to start the conversation with your doctor. The doctor may "always know best", but no one knows your body better than you. Take charge of your health and your healthcare.
Instead of the cortisone shots for my health issue, I went with the stretches and the proper sneakers. I'm happy to report that thanks to my doctor and my own advocacy, I'm now pain-free from plantar fasciitis!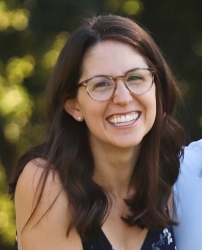 Latest posts by Erika Gruszewski
(see all)