The hardest part about running is starting. The best part is when it's over. If you'd asked me about a year ago how to start running, I would've said don't. That's because I never gave it a shot. Since joining a running program, buying my first pair of real running shoes, and running a handful of 5K's, my perspective has changed.
Don't get me wrong—running is hard. It's not just a thing you start doing one day and you're magically good at it (at least it wasn't for me). It took a lot of dedication, fighting self-doubt, and getting out there four times a week even when I didn't want to.
My first month of running went something like this:
Week One
This sucks. I can hardly breathe and my legs are going numb.
Week Two
Why am I doing this? I'm not cut out for running. I am so sore.
Week Three
I'm not dying anymore, and I can kind of talk to others in the group when I run.
Week Four
I'm doing it! I'm really running and it's not as horrible as I thought it was!
Soon enough, I was shaving minutes off my pace and I actually looked forward to going for a run. If you're thinking what I used to think (that running is horrible and you should never do it) here are a few things that might motivate you to get out there and give it a try:
Join a running program
I signed up for the No Boundaries 2.0 training offered by Fleet Feet Sports I did it for the personal accountability (the program was just enough money that I didn't quit when I felt like giving up), pressure to keep running when I wanted to take a break, and the social aspects, too.
Other running programs include those by the Utica Roadrunners, Triple Cities Runners Club in the Binghamton area, Fleet Feet Syracuse and the YMCA of Greater Syracuse.
Make the investment in good running shoes
Yes, the good ones are ugly, but it made a huge difference in reducing my soreness and eliminating my shin splints. I went to Fleet Feet for help selecting my sneakers, but if you're a DIY kind of person, Matt Rogers, an exercise physiologist, gives some pointers for picking out the right type of shoes.
The key, he said, is to determine whether you need sneakers with motion control, stability or cushioned support. I love Matt's suggestion for doing a "wet test" to determine which type of foot you have. You basically wet your feet, step on some paper or another surface and see which type of "blob" appears:
Is there a little arch? You likely have flat feet and might need a sneaker with motion control.
Is there tons of space between what looks like two "islands?" Consider sneakers with extra cushioning.
A normal arch will look like, well, a typical footprint. You might need a sneaker with stability control.
Download an app to track your runs
Try using Map My Run. I like seeing where I've run, my pace, and doing challenges with friends. You could also download a "couch to 5k" app instead of joining a running program, but you won't get that same level of accountability.
Listen to music that pumps you up
It's amazing how one song can get you in the groove or give you an added boost. Compile a playlist of your favorite jams before you hit the streets—that way you're not skipping through your entire music library trying to find those energizing songs.
Volunteer to hand out medals at a marathon
You will appreciate running after seeing all of the different people crossing the finish line. If they don't inspire you to give it a try, I don't know what will.
I still wouldn't classify myself as a "runner." I don't think I ever will. But it's really cool to stick with an activity, even when you don't want to, and overcome the mental challenges you've set for yourself. Give it a chance.
What advice do you have for new runners? Are there any tricks, or other local running programs, that worked for you? Share your thoughts in the comments section below!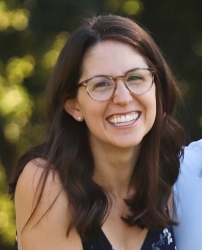 Latest posts by Erika Gruszewski
(see all)