If you're looking for an inspirational, uplifting or funny book for the New Year, here are a few of my favorite non-fiction books.
When you need a real-life hero
"Unbroken" by Laura Hillenbrand
I was riveted by the resilience of Louis Zamperini who started out life as a delinquent. Zamperini took his talent of running away from crime to earn a spot on the American team as a long distance runner in the 1936 Berlin Olympics. The athlete later served as an airman in World War II. This was a "beyond the driveway" audiobook; I didn't want to stop listening to Hillenbrand's account of how the young Californian survived incredible odds after his plane went down over the Pacific Ocean. Furthermore, he somehow endured extreme torture and cruelty as a Japanese prisoner of war.
"The Boys in the Boat" by Daniel James Brown
It's the 1936 Olympics again. Nine young men attending the University of Washington beat established rowing champions to represent the U.S. in Berlin. Most of the "boys" were working two or three jobs to attend college and support themselves during the Great Depression. Upstate rowing fans can relate to accounts of Syracuse University's team, often a competitor of the Seattle team when they traveled east. Their story is also captured in the PBS documentary, "The Boys of '36″.
All Creatures Great and Small
Books about animals remind me of my small place on this planet. I am amazed at the intelligence of these non-humans. The authors delve into the anatomy and biology of these animals, as well their personal relationship to specific ones.
3. "The Sound of a Wild Snail Eating" by Elisabeth Tova Bailey.
I've given away so many copies of this book that I now order the book for friends and have it sent directly to them. This small volume starts with Bailey's battle with a mysterious illness she contracted on a trip to Europe. Once home in the U.S., she became bedridden. An active hiker and nature lover, she had to move from her farmhouse to a small apartment close to where she could get care.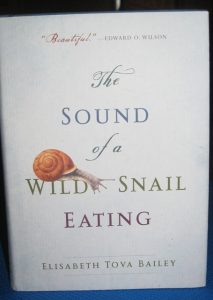 When a friend presents her with a pot of wild violets, Bailey is surprised to find an interloper living among the leaves: a common woodland snail. Soon, her fascination with the small creature morphs into a study of the Neohelix albolabris. Her description of the snail's anatomy, locomotion, decision-making abilities and mysterious courtship is engrossing. So much so, that I assembled a terrarium and plucked several snails from my garden to live among the plants. They're now in hibernation–or dead.
4. "The Soul of an Octopus: A Surprising Exploration into the Wonder of Consciousness" by Sy Montgomery.
This book explores the author's friendship with Athena, a deep sea creature housed at Boston's New England Aquarium. When the eight-limbed invertebrate dies, Montgomery's grief is overwhelming for her newfound friend. Playful on one hand, cunning on the other, Athena was one of three octopuses Montgomery observed and fell in love with. Local bonus:  Montgomery graduated from Syracuse University.
5. Alex & Me by Irene M. Pepperberg
A psychologist shares her extraordinary relationship with Alex, an African Grey parrot. Alex demonstrated an astonishing ability to communicate and understand complex ideas. Get the audio version so you can hear Alex talk.
6. Wesley the Owl: The Remarkable Love Story of an Owl and His Girl by Stacy O'Brien
I picked up this audiobook after my son expressed an interest in owls. (He also likes puffins.) O'Brien, a biologist, adopts Wesley, a barn owl, when he is just three days old. She bonds with Wesley, who grows to consider her his mate; owls are monogamous. This account is touching and tender, from how the young woman cuddles her animal friend to how she feeds and cares for him so that he has as "natural" a life as possible in captivity.
A Happy Life
7. "A Short Guide to a Happy Life" by Anna Quindlen
Often given to high school and college graduates, this small volume contains the Pulitzer Prize winner's advice on how to "get a life." Just 19 when her mother died of ovarian cancer, Quindlen has been living under the shadow of her own mortality since then. She writes, "that knowledge of your own mortality is the greatest gift God ever gave us."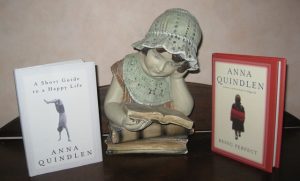 8. "The Book of Awakening: Have the Life You Want by Being Present to the Life You Have" by Mark Nepo
My yoga teacher often ends practice by reading from this book. A cancer survivor, Nepo advocates "being present" to enjoy life as it unfolds. Therefore, he begins each day with a quote and ends it with a meditation. No one can go through your journey for you, he writes, "but you are not alone. Everyone is on the same journey. Everyone shares the same pains, the same confusions, the same fears…"
Spiritual, Not Religious
9. "Traveling Mercies" by Anne LaMott.
This book of essays features LaMott's hard-won life lessons. A recovering drug addict and alcoholic, LaMott grew up searching for a connection with a higher power. She found it in a Marin City, California, church with a diverse congregation in a poor neighborhood.
Her faith is earthy and real.
For example, shortly after LaMott's close friend died and a relative was diagnosed with Alzheimer's, LaMott observed: "I felt alternately rubbery and empty, like sometimes I was landing on the Swiss cheese, sometimes in the holes."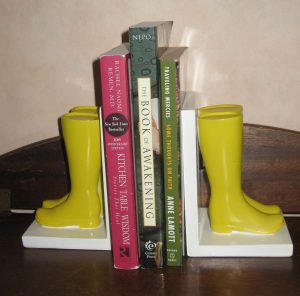 In Sickness and in Health
10. "Kitchen Table Wisdom" by Rachel Naomi Remen, M.D.
I don't remember why I picked up "Kitchen Table," but it's definitely a keeper. Remen's parents were both doctors who believed in science, not religion. From her grandfather, an Orthodox rabbi and scholar of the Kabbalah, Remen learned about the connectedness we have with each other. Remen uses her own personal illness to enlarge her view of medicine. Consequently, she was one of the first physicians in the country to adopt the practice of holistic medicine.
11. "Being Mortal: Medicine and What Really Matters at the End" by Atul Gawande
Written by a practicing physician, this thoughtful book relies upon  Gawande's own medical practice and his experience with his father's death. He also relates how one doctor in upstate New York transformed a nursing home from a place of dying to a home for the living to spend their last days among pets, plants, and children.
12. "When Breath Becomes Air" by Paul Kalanthi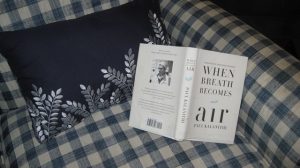 Although a book about dying may not seem uplifting, author Paul Kalanthi manages to evoke wonder and awe as he recounts his transition from brilliant neurosurgeon resident to dying patient. Diagnosed with stage IV lung cancer, Kalanthi learns more from his own struggles than any lesson he was taught in medical school:
"…the physician's duty is not to stave off death or return patients to their old lives, but to take into our own arms a patient and family whose lives have disintegrated and work until they can stand back up and face, and make sense of, their own existence."
I teared up as I read the author's final words to his infant daughter. In the margin, I'd written one word: Profound.
When the Going Gets Tough
13. "When Bad Things Happen to Good People" by Rabbi Harold Kushner
Kushner believes that tragedy is often due to the randomness of the universe. Bad things just happen. Kushner's first-hand experience asking God, "Why?" stems from his young son's diagnosis of a degenerative disease. Called progeria, the extremely rare disease speeds up the aging process. Kushner's son, Aaron, died of old age when he was in his early teens.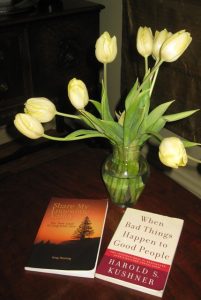 14. "Share My Lonesome Valley, The Slow Grief of Long-term Care" by Doug Manning.
Manning's words are comforting for those caring for a loved one with a chronic debilitating condition or illness, such as dementia.
Caregivers often lose themselves in the day-to-day activities of looking after their loved ones. "Long-term care folks seem to just 'function in the fire,'" he said.
When you take care of someone who will never be restored to their former good health, it's a grieving process, Manning believes. His words acknowledge the caregiver's need to grieve their "old" life.
Funny, But Sad
15. "Can't We Talk About Something More Pleasant?" by Roz Chast.
This celebrated magazine cartoonist chronicles her parents' declining years in cartoons, family photos, and prose. Both comic and caring, this memoir tells how Chast, an only child, copes with her mother's and father's failing health. She cleans out the apartment where they've hoarded non-necessities for decades and moves them to assisted living nearer to where she lives. As a baby boomer, I can't help but think of my own advancing age and how can I approach it graciously.
Funny and Informative
16. "Stiff: The Curious Lives of Cadavers" by Mary Roach.
Not a scientist, but a writer about science, Roach has authored books on a plethora of subjects, including sex, ghosts, eating and life as a soldier and astronaut. She combines the ghoulish with the informative in this tale of what happens to our bodies after death. She writes with a light touch that has you more intrigued than grossed out. I heard her speak as part of an Onondaga County Library's Famous Author series; she's as good a presenter as she's a writer.
Comic
17. "Me Talk Pretty One Day" by David Sedaris.
Sedaris is another author I heard speak as part of the famous author series. He had the audience laughing the whole time. Sedaris is candid about his Obsessive Compulsive Disorder, his dysfunctional family dynamics, and being homosexual. This is my favorite of his books, although his account of playing an elf to a department store Santa Claus gives it a good run in "Holidays on Ice". Local connection: Sedaris's grandmother lived in Binghamton, N.Y.
18. "Rossen to the Rescue" by Jeff Rossen
The NBC investigative reporter turned some of his televised Rossen Reports into a book. Subtitled "Secrets to Avoiding Scams, Everyday Dangers and Major Catastrophes," the book covers topics that range from protecting your home and kids to fighting identify thieves. Easy to pick up and read a chapter at a time, "Rossen to the Rescue" may save you money, and more importantly, your life and the lives of your loved ones!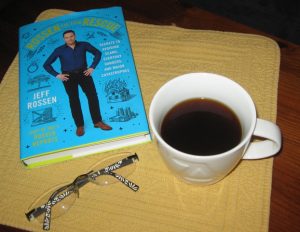 My Favorite Fiction
In an upcoming article, I'll share my 18 favorite works of fiction.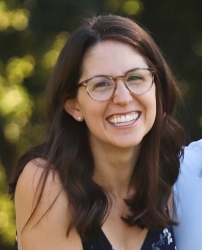 Latest posts by Erika Gruszewski
(see all)