When Shaquana Divers talked with her teenage daughter about e-cigarettes, she was shocked to learn just how popular they are with kids at school. Her daughter said that even though kids are told about the harms of e-cigarettes, many still use them. Some start using as early as sixth grade. Divers, an Executive Program Manager with Excellus BlueCross BlueShield, was concerned about the growing popularity of e-cigarettes.
Numbers to Gasp At
Parents like Divers aren't the only ones shocked to learn about the popularity of e-cigarettes. In New York state, e-cigarette use among youth increased 160 percent between 2014 and 2018.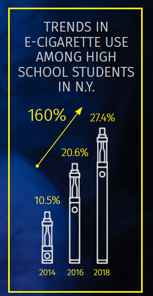 One in four high school students in New York said they used e-cigarettes at least once in 2018.  The U.S. Surgeon General has gone so far as to declare the  increase in youth vaping as an epidemic. 
Behind the Smokescreen
E-cigarettes are battery-operated devices that heat a liquid (sometimes called "vape juice" or "e-juice") to produce an aerosol vapor that is inhaled. They are also known as vape pens, e-cigs, mods or by a common brand name,  JUUL®.
E-cigarettes can look like a variety of objects, such as USB drives, cigarettes or pens. They can easily be hidden. In fact, some devices don't even produce a vapor cloud when exhaled, making them harder to spot.
Small Device, Big Problems
Many young people believe that e-cigarettes are less harmful than other tobacco products. But e-cigarettes are not harmless. They can contain a number of dangerous ingredients such as:
cancer-causing chemicals
chemicals linked to lung disease
heavy metals, such as nickel, tin, and lead
ultrafine particles that can be inhaled deep into the lungs
high levels of nicotine
It is unsafe for young people to use any product containing nicotine. Nicotine can cause addiction, harm the developing brain and affect memory and attention. Some e-cigarette cartridges have a higher concentration of nicotine than a pack of cigarettes.
Many people aren't aware that e-cigarettes can contain nicotine. One study showed that 63 percent of JUUL® users between 15-24 years old didn't know the product contains nicotine.
Wheezing, Explosions and Long-Term Risk
Research shows that e-cigarettes can also have other health impacts. E-cigarette use among young people may:

According to the CDC, e-cigarettes can also have defective batteries that can cause fires and explosions. A few of these have led to serious injuries, including  third degree burns, broken teeth, and even loss of vision.
Since e-cigarettes are still a relatively new product, scientists don't know all of the long-term side effects of e-cigarettes.
Tips For Having "the vape talk"
With serious health risks and a lot of misinformation, it's important to talk with your child about e-cigarettes. For Divers, open conversations are a key to her parenting strategy. That's why she made it a priority to talk with her daughter about e-cigarettes and support her in continuing to make good, healthy choices.
But, it's not always easy to have sensitive discussions with your children. The American Lung Association offers these tips for having the "vape talk" with your child:
Choose a time and place where you are both comfortable and more likely to open up, like when you're riding in the car or having dinner.
Acknowledge the smart decisions your child makes  every day. Encourage them to keep positive choices going.
Ask open-ended questions  to encourage conversation. Some suggested conversation starters include: Are a lot of kids vaping at your school? What do you think about vaping? Do you know how vaping can damage your health?
Resources for quitting
E-cigarettes are not approved by the FDA as a method to quit smoking. Use only FDA-approved methods when trying to quit.
Here's just a few ways to get the ball rolling when it comes to quitting or helping someone quit:
Talk with your doctor
Call the NYS Smoker's Quitline at 1-866-NY-QUITS (1-866-697-8487)
Visit SmokeFree.gov
Visit The Truth Initiative website to learn about text message programs that help young people stop using e-cigarettes
A free e-cigarettes educational poster is available to download here.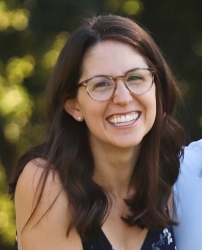 Latest posts by Erika Gruszewski
(see all)