When Nina Hoyte was six months old, she and her then two-year-old brother were placed in foster care.  Young Nina's mom had been neglecting her and her brother.
Nina and her brother continued to visit her mother for years,  and Nina remembers wanting to be with her. But then a foster family adopted Nina and her brother. It was the first foster family that they had lived with. Despite the initial struggles, Nina said they were lucky.
"I was fortunate," she said. "Not everyone has that same experience, but I was fortunate to only have one foster home."
Nina's experience as a foster child is why she wanted to bring that unique perspective to CASA (Court Appointed Special Advocates) Rochester. Nina, who is now an accounts services consultant at Excellus BlueCross BlueShield in Rochester, helps at CASA by using her own experience to help foster kids who are going through what she has already dealt with.
A connection with the kids

CASA trains and supervises a diverse group of volunteers, such as Nina, to advocate for children who have been abused and/or neglected.
Liz Caldwell, Director at CASA, notes that the advocate role brings the best interests of the children to the forefront of the discussion in Family Court, foster homes, visits, schools, and with community providers. The overall goal is for all children to have a safe, permanent home, as soon as possible.
When Nina is assigned a case, she meets with all the parties involved in the foster child's situation. This can include the child, the biological parents, the attorneys, the caseworkers, the foster parents, and the school's caseworkers.
She learns about the child's well-being and history. She also observes how they're doing with the visits with their biological parents, and how they're doing in foster care. Then, she reports this information to the Family Court Judge. This helps the judge make an informed decision about the child's future. If the judge rules that the home environment is safe, the child remains with their biological parents. However, if it isn't safe, the child will be permanently moved into a safer home.
"I felt as though I could relate to these children and I could help them on a level that some people would not be able to because they couldn't truly understand what it was like to go through that experience," Nina said.
"CASA will train eligible volunteers to do the advocacy work," says Liz Caldwell. "Clearly when you have an individual like Nina, with her background, she can relate to the feelings, anticipate barriers for our CASA children, and provide real heartfelt advocacy for them. She has proven herself to be very effective."
More eyes are watching
When she was growing up as a foster child, CASA didn't exist, so there wasn't an advocate to protect her. Nina first learned about CASA through another volunteer. Then, after seeing a news segment about the number of foster children in the United States, she knew she had to get involved.
Nina said her foster parents took great care of her. But she remembered another child she knew who didn't have a positive experience with her foster family.  Nina's friend was removed from her home because her biological mother wasn't mentally fit to be a mother. Unfortunately, her foster parents were unkind to her. For several years in other foster homes, the foster parents didn't properly feed her, stole from her, and lied to social workers. They fostered for the paycheck, said Nina.
"When I hear bad stories of kids placed in bad homes, it's not usually a case in which CASA is involved," Nina said.
When CASA is involved, Nina said, "There are more eyes watching so there are more good stories happening". The volunteers insert themselves into every part of the child's life. That way they can see if the child is unsafe or experiencing a toxic environment. Their involvement allows the child to have the chance to experience the love and joy that a good family can give.
Getting help
It can be difficult for young children to recognize they are in a bad situation when their biological parent is all they know, Nina said. They may have never experienced what a healthy, loving family is like. When children enter the foster care system and are in a foster home, they can start to see how kids are supposed to be treated.
They start being fed on a regular basis, going to school, and having parents who take care of them. This change encourages them to better connect with their foster parents. Nina admitted that she has no idea where the children's' lives would head without CASA—continuing the cycle of abuse, joining gangs, doing drugs, etc.—but "they are given a chance to have a productive life."
Not all of the cases end with the separation of children from their biological parents. "Our immediate thought is to blame the parent," Nina said. "But CASA teaches us that we can't just blame the parent, because some of these parents never experienced what it is to be a parent."
Being an advocate means figuring out what the best possible situation is for the child. Sometimes that means getting help for the parent so that the children can return home. "I have learned to be more understanding of people's situation, and not immediately judge everybody's house," Nina said. CASA works with the parents to help them get the classes they need, just like they work with the children to get the home that they need.
It's not their fault
Nina wants children in the foster system to know that "it's not their fault that they're in this situation and it's nothing to be ashamed of. And they're not alone. It's not the end of the story. They can make a difference, and they can still do and be whatever they want". Nina added, "They can finally feel the love that they haven't felt and they can be positive people even though the beginning of their story wasn't so great. They can make a huge difference."
Nina shared that volunteering with CASA Rochester is incredibly rewarding, but has its challenges. You have to be open to all different kinds of stories that will pass in front of you. However, added Nina, these stories motivate you to keep advocating for these children.
If you're interested in joining Nina as a volunteer with CASA Rochester, click here.
Click here to donate to CASA Rochester.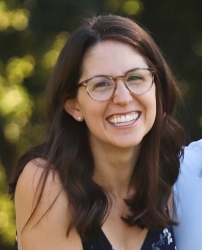 Latest posts by Erika Gruszewski
(see all)