It was while I was lying awake at 3:00 a.m. again that I realized something was not right.  I am usually an early riser, but 3:00 a.m. is really early, even for me! The pandemic had brought about a lot of changes to my life, including a significant reduction in sleep!
A Vicious Cycle
I work as a Workplace Wellness Coordinator at Excellus BlueCross BlueShield. My job is to educate others on the importance of sleep, but I am not immune to having issues myself.  I know how detrimental inadequate sleep can be, with problems ranging from impaired memory, to obesity, to greater likelihood of car accidents. That knowledge only raised my stress levels! And like a vicious cycle, the more I stressed about not sleeping, the less I slept.
I decided to get help
One night, stuck in another vicious cycle of not sleeping, I decided to get help. I was already registered with MDLIVE, the telemedicine service affiliated with my health insurance. I decided to schedule an appointment with a Licensed Social Worker, who was available within a couple of days.
During my appointment, she explained that I was feeling so stressed that my brain was too "busy" to shut down and sleep properly.  She gave me some activities to try such as meditation and breathing techniques.  She told me to work to make small improvements, even an extra 20 minutes at night is a start.
6 Habits for Better Sleep
Sleep problems are common, according to Greg Carnevale, M.D., chief medical officer and sleep specialist with Excellus BlueCross BlueShield. "There are 50-70 million people in the U.S. that suffer from one or several sleep disorders that result likely in not getting enough sleep. The cause and solution can vary for each person," Carnevale said. Health experts recommend getting at least seven hours of sleep each night.
"As a society, we need to recognize the dangers of trying to get by with fewer hours of sleep and wake up to the health benefits of a good night's rest," Carnevale said. He offers the following tips for improved sleep:
Keep bedroom quiet, dark and cool.
Avoid large meals, caffeine, nicotine and alcohol before bed.
Stick to a consistent sleep schedule, including on weekends.
Exercise regularly.
Establish a relaxing bedtime routine.
Turn off electronic devices at least 30 minutes before bed.
Seek Help When You Need It
I've been listening to the advice of the social worker and thankfully, it is helping. I really wish I had called sooner. But, it is never too late to seek help.
"There are sometimes very easy and simple steps to improve on your sleep, and sometimes you need a professional, such as your doctor, to help," Carnevale said. "Trying to navigate the misinformation out there alone can have deleterious effects to you and your health.  Don't wait to seek help," he added.
View and download an Excellus BlueCross BlueShield infographic on ways to improve sleep at ExcellusBCBS.com. For more help with sleep, talk with your doctor or sleep specialist.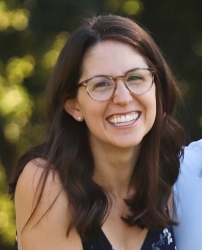 Latest posts by Erika Gruszewski
(see all)