We invite you to join Excellus BlueCross BlueShield in recognizing Maternal Mental Health Month. Mental and behavioral health issues affect millions of Americans, and the challenge can be even greater for those impacted by mental illness during pregnancy and postpartum. One in eight mothers experience symptoms of maternal depression. Developing a strong support system and finding treatment for symptoms can help both mother and baby thrive.
According to the Centers for Disease Control and Prevention (CDC), mental health is an important part of overall health and wellbeing. It includes our emotional, psychological, and social wellbeing. It affects how we think, feel, and act. Mental illnesses are among the most common health conditions in the United States. With more than half of all Americans expected to be diagnosed with a mental illness or disorder at some point in their lifetime, almost everyone is impacted by mental illness in some way.
Pregnancy and motherhood come with many challenges from lifestyle to hormonal changes. Each woman's experience is different. Some adapt to these changes easily, while others may struggle physically and mentally. Maternal mental health disorders typically occur during pregnancy and within the first year after birth.
Identifying the signs and symptoms is an important first step to getting help. According to the Centers for Disease Control and Prevention, symptoms of postpartum depression can include intense sadness, anxiety, and hopelessness, loss of interest in activities, withdrawing from family and friends, or thoughts of hurting yourself of baby.
If you are struggling, you're not alone and support is available. The National Maternal Mental Health Hotline provides free, confidential support, resources, and referrals from professional counselors to pregnant and postpartum individuals facing mental health challenges 24 hours a day, 7 days a week. Counselors offer support in English and Spanish and interpreter services are available in 60 additional languages. Call 833-943-5746.
The Maternal Mental Health Hotline is not intended as an emergency response line and individuals in behavioral health crisis should contact the 988 Suicide and Crisis Lifeline by calling or texting 988 or chat 988lifeline.org.
Share your story
Sharing stories can be a powerful way to raise awareness about this very important issue. Hear from two courageous mothers and Excellus BCBS employees who are proud to share their stories and encourage others to seek support.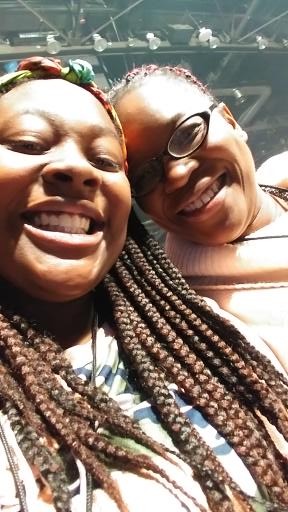 "To say I'm not OK and I need help, shows just how strong you are, because if you're not here, imagine the light that's being taken away from those around you," says Michelle Mack-Hayward, Excellus BCBS Affordability Program Development Specialist. Michelle experienced the devastating loss of her twin boys at 19 weeks pregnant, followed by a difficult pregnancy with her daughter that included 10 weeks on bed rest in the hospital. "Having the joy of this beautiful little girl and grieving the loss of my two sons was hard. It took me saying I'm not OK and admitting I need help," says Michelle. "If my story can help someone get through a rough time, it doesn't have to be fetal loss, it can just be the hardships of giving birth, motherhood and it's challenges, and reach out to say I need help, then I will tell it a million times." Listen to Michelle's full story here.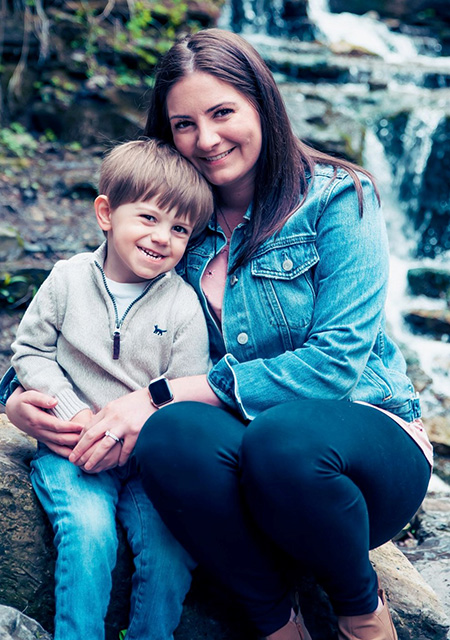 Melinda Coleman, Excellus BCBS Health Care Quality Improvement Manager, knew she just didn't feel right after giving birth to her son, so she decided to reach out for help. "I felt robbed. I was angry, tired of being in pain all the time and I lost all my confidence," says Melinda after being pregnant at the height of the pandemic and experiencing a traumatic delivery that left her with nerve damage. "I like to share my story because it may help other mothers to know that things may not go as planned and how to prepare for it," says Melinda. "If something doesn't feel right, speak up, talk, you are not alone, and there are resources available to help." Read Melinda's full story.
Supporting maternal mental health in our communities
With a goal of reducing racial disparities in maternal health by 50% over the next five years, Excellus BCBS continues to invest in the community, partnering with organizations that are working to improve maternal health outcomes throughout the Health Plan's footprint.
Multi-year funding has been provided for the following programs:
Mount Hope Family Center located in Rochester, NY provides home-based interventions for teen moms to address maternal mental health, parenting and child development, and trauma.
Integrated Community Alternatives Network in Utica, NY provides comprehensive prenatal and postpartum care, transitional housing, and a supportive peer community for young homeless women who are pregnant and/or parenting.
Oneida Health located in Oneida, NY, began a Women's Health Behavioral Navigation program designed to bridge the gap between providers, patients, and behavioral health services through a care-coordinated model. The program provides services to address mental health, substance abuse, or age-specific women's behavioral health conditions of Oneida Health patients receiving care at its Women's Health office, Lullaby Center, or Emergency Department (ED).
Mothers & Babies Perinatal Network located in Binghamton, NY provides home/virtual visits to support new parents with breastfeeding, safe sleep, medical appointments and transportation, insurance & food insecurity through the first year of life.
Gerard Place in Buffalo, NY provides education, advocacy, mentoring & clinical tracking of low-income moms by nurse educators.
Keep the conversation going
Excellus BCBS encourages you to keep the conversion about maternal health and maternal mental health going. If you know someone who is pregnant or has recently given birth, offer to listen. Visit the CDC's Hear Her page for helpful resources.
More Mental Health Resources: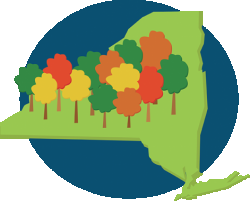 Latest posts by A Healthier Upstate Contributor
(see all)