When I moved off campus my junior year of college, I was excited to have an actual kitchen to cook in and a place to eat that I didn't have to share with hundreds of other students.
That feeling quickly faded when I remembered how much time and money it takes to cook and grocery shop when you're a broke college student and also going to classes, club meetings, working and seeing friends.
Staying up late was normal for me. Some nights I'd leave work at 1:30 a.m., or I was up late studying or hanging out with friends. There was no way I was going to take the time to cook myself an actual healthy meal. Even if I wanted to cook, I probably didn't have anything in my fridge to make it.
I saw fast food as my only option.
Drive-Thru Voodoo
Frequenting fast food drive-thrus became a regular habit for my friends and me. They were the only places open late at night and the cost seems cheap when you can get a meal for only a few dollars. If I did go to the grocery store, I'd buy chips or microwaveable meals that were easy to make. I probably used my oven a handful of times over an entire semester.
But the truth is, with a bit of planning, broke college students and young professionals can eat healthy without spending a lot of time or money. Pat Salzer, registered dietitian and workplace wellness consultant at Excellus BlueCross BlueShield, shares eight tips to help you save time while eating healthy on the cheap.
8 Tips for Healthy Eating on a College Student's Budget
Have group meals. Find friends who like to cook and make your meals together. Having a group of people working together to make dinner is more fun than cooking alone and will help you avoid fast food restaurants.
Don't grocery shop when you're hungry. This might seem like an obvious tip that you've heard a thousand times, but it's true! When you're hungry, your willpower goes out the window. Everything will look good, especially the things that don't take long to make.
Buying in bulk isn't always a good thing. Bulk can be good if you know that you'll eat all of it. However, it's not worth buying large quantities, especially produce, if you'll just stress about not eating it all before it goes bad.
Have a plan when you shop so you'll get what you need and only what you really need. You won't overspend if you stick to a grocery list. This strategy might also help you avoid filling your cart with junk food—like those little pints of Ben & Jerry's chocolate fudge brownie ice cream that I love so much!
Be realistic about what you will eat. I would always buy Greek yogurt because I knew it was healthy. Only problem was, I don't like Greek yogurt. I tried to force myself to like it, but it wasn't happening. The yogurt would sit in my fridge until it hit the expiration date and then I'd have to (thankfully!) throw it out. There's no point in spending your money on something that you know you won't eat.
Prepare big batches of healthy, delicious foods that'll leave you with lots of leftovers (and unlike in tip #3, you know you'll eat it). Whatever you make for dinner, you can also eat the next day for lunch. It's also a good way to keep yourself from overeating at a meal if you know that you need to save some for the next day.
Buy fruits and vegetables that are in-season. Not only will that sweet Red Delicious apple you bought in the fall taste better, but it'll likely be cheaper, too. Try different types of produce—you might be surprised by what you like! I was shocked (shocked) to learn that I actually liked the taste of broccoli!
Stash affordable, healthy foods for snacks—yogurt, string cheese, cottage cheese, peanut butter, etc.—around your apartment, house or dormitory. These foods will help satisfy late-night cravings and deter you from embarking on fast food runs.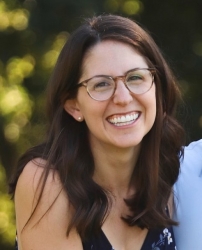 Latest posts by Erika Gruszewski
(see all)