It's just about time for my favorite family activity. As we anticipate our annual tradition of visiting a local maple farm, I can't help but recall a favorite childhood memory.
I remember adding maple sugar to fresh snow to make a sweet treat (don't worry, scientists say eating small amounts of snow usually isn't harmful). Laura Ingalls Wilder's "Little House in the Big Woods" was a childhood favorite of mine and I copied this trick that Laura's grandmother taught her. My daughter recently read the story and it will be great to re-enact the experience with her–especially given our upcoming trip to a "sugar house."
With New York's Maple Weekends starting soon, upstate New Yorkers can visit a maple farm and start their own family traditions.
Every spring, New York State Maple Producers Association coordinates events at the "sugar houses" at about 160 farms and museums. This year it will be March 23-24 and 30-31, 2019. Find a place near you!
Most places have hands-on demonstrations of how syrup is made, fresh syrup tastings, and experts on hand to answer questions. Many also have pancake breakfasts complete with—you guessed it— local syrup.
My family loves these maple weekends. This fun family activity signals the beginning of spring, even if there's still snow on the ground. The highlight for my daughter is sampling fresh syrup, maple butter, and, of course, maple candy.
Making maple syrup
I also love seeing how syrup is made and how natural the process is. While upgrades have been made over time, the basic process has remained the same for centuries. Native Americans in the northeastern United States and Canada were known to make syrup, and today New York is a top syrup producer.
Really, anyone can do it. The process involves very simple, classic steps:
Phase One: Find a sugar, black or red maple tree, drill a hole for a tap, add a bucket under the tap and let gravity work its magic.

Phase Two: Boil! It takes about ten gallons of sap to make 1 quart of syrup. Farms have huge vats for this process. And don't forget to filter the syrup once boiled to remove sediment.

Phase Three: Pour into a sterile bottle and cap. Keep unopened containers in a cool place for up to two years. Once opened, store in the refrigerator for up to a year.

Phase Four: Enjoy!
You may notice syrup comes in different colors. Some have rich hues of brown or amber or gold. There's a reason for this! A syrup's color and flavor correlates to when the syrup was made; sap from later in the season is often darker in color and typically has a stronger flavor.
More than Pancakes
Maple syrup isn't just for breakfast.
You can bake with it, using syrup in place of the sugar.
If you're replacing sugar with maple syrup, you'll want to use about ¾ cup of syrup for every cup of sugar and decrease the amount of liquid in your recipe by about three tablespoons.
Maple syrup can also be added to ice cream, BBQ sauce, fudge and kettle corn. Some of my favorite food magazines, such as Epicurious  and Food and Wine , are full of inspiration.
Visit the Excellus BlueCross BlueShield Pinterest page for other tasty recipes for baking with maple syrup. (Don't forget to view the recipes at the end of this story!)
"Just remember, maple syrup is basically sugar so enjoy it in moderation," said Patricia Salzer, registered dietitian, Excellus BlueCross BlueShield.
A local tradition
If you're a Maple Weekend newbie, here are some of my favorite places to consider:
Other farms to consider include:
Try these (syrup-y) recipes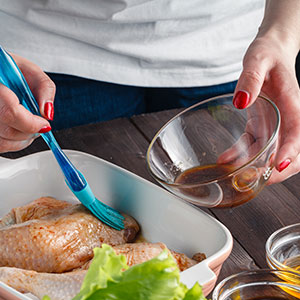 | | |
| --- | --- |
| | |
Whisk all the ingredients together.

Use the mix to coat your favorite protein. For chicken, pork or beef, marinate one to four hours. For tofu or seafood, marinate for up to one hour.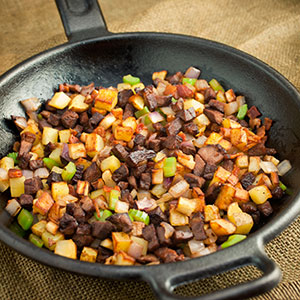 | | |
| --- | --- |
| | |
Brown the meat in butter or olive oil. Once browned, remove the meat from the pan.

Stir in the sweet potato and onion, scraping up the meaty bits off the bottom of the pan. A splash of water, apple cider or apple juice on the bottom of the hot pan will help this process and add a nice flavor.

Saute the sweet potato and onion until soft, about 10 minutes. (Speed trick - you can soften your sweet potatoes by throwing them into boiling water on the stove or in a microwave safe dish until fork tender).

Once your sweet potatoes are fork tender, stir in the diced apple. Stir this around until the apples get soft, about four to five minutes.

Once your veggies are fork tender, stir the sausage back in. Add the cinnamon, maple syrup and salt and pepper to taste. Cook together about three to five minutes or until everything looks happily married.

Enjoy! It's delicious on its own or with a fried or poached egg on top.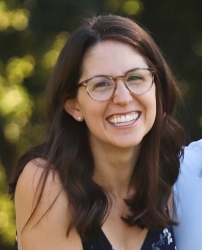 Latest posts by Erika Gruszewski
(see all)