I didn't care much for my first-ever attempt at making zucchini bread. I didn't want to make it, but my mom had asked and I wanted to help. However, the problem was, zucchini grossed me out.
Overcoming my Fear of Zucchini
I have nothing against zucchini. I had just never eaten it or even seen zucchini up close until my mom handed me a giant mixing bowl filled with grated zucchini. I didn't want to touch it. I couldn't understand why anyone would want to actually eat it.
My mom handed me the recipes and I made the bread. But I never got around to trying it. Later on, my friend convinced me to try one of her zucchini muffins. Although I was terrified the muffins would be the strangest and grossest thing ever, they weren't. This was a big step toward overcoming my fear of zucchini.
My Journey to Loving Zucchini Bread
Flash forward a year and I actually decided to make zucchini bread for a work meeting. My mom didn't have her recipes anymore, so I looked up recipes for zucchini bread and chocolate zucchini bread.
I started with the plain zucchini bread. I'm not a fan of nuts, so I skipped that ingredient. I was pretty excited once I put the pans in the oven. I then began to work on the chocolate zucchini bread.
Halfway through the directions, I realized I didn't have enough white sugar. At this point, it's about 10 p.m. on a Sunday night and I was not in the mood to drive to Wegmans. I did a little googling and realized I could substitute the brown sugar I did have for the white.
I didn't know if it would work.  But I hoped for the best.
Being a chocolate fanatic, I may have added extra chocolate chips. As I was about to start pouring the batter into the pans, I realized I had already used my only two loaf pans! I got creative. I pulled out two round cake pans and poured in the batter, effectively changing chocolate zucchini bread into chocolate zucchini "cake!"
On Monday morning, I brought the zucchini loaves to the meeting and the favorite by far was the chocolate zucchini bread because of the sweet chocolatey goodness. However, my favorite was the regular zucchini bread. It was sweet and tasty!
This slideshow requires JavaScript.
Try them out for yourself and let me know what you think. Trust me, as an extremely picky eater myself; it's not as weird as it sounds (or looks).
Preheat oven to 325 degrees F. Grease two 8x4 inch pans.

Sift flour, salt, baking powder, baking soda, and cinnamon together in a bowl.

Beat eggs, oil, vanilla, and sugar together in a large bowl. Add sifted ingredients to the creamed mixture, and beat well.

Stir in the zucchini until well combined. Pour batter into prepared pans.

Bake for 40 minutes or until a toothpick inserted in the center of the pan comes out clean. Cool in the pan on a rack for 20 minutes. Remove bread from pan and let completely cool before serving.
Place grated zucchini in a sieve to drain any excess moisture.

Preheat oven to 350 degrees F. Grease two 9x5 inch loaf pans.

Whisk together flour, cocoa, baking soda, salt and cinnamon until smooth.

Add melted butter and almond extract to egg mixture. Beat until smooth.

Stir grated zucchini into egg mixture.

Slowly add flour mix to the bowl and mix everything together.

Divide the batter into two pans.

Bake for 40 minutes or until an inserted toothpick comes out clean. Cool completely before serving.
Healthy Substitutions
Note that there are many substitutes you can try to make your zucchini bread even healthier. Try using:
Egg whites instead of the whole egg;
Unsweetened applesauce instead of oil or butter;
A smaller amount of chocolate chips;
Whole wheat flour instead of white flour;
Agave nectar instead of sugar;
More healthy alternatives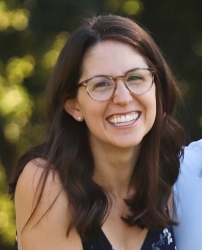 Latest posts by Erika Gruszewski
(see all)