Adapted from shape.com's new ways to use thanksgiving leftovers article.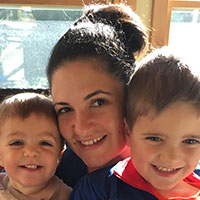 Joy lives in Ontario County with her boys (two sons and her hubby). She runs to stay sane and spends lots of time with her boys splashing in their creek and catching frogs and snails. She is a New England native who promises not to share her sports allegiances, although as an alumna of Syracuse University, she loves (loves) SU sports! Joy is a corporate communications manager at Excellus BlueCross BlueShield.
Passive Time

20

minutes of stirring
Passive Time

20

minutes of stirring
Start by opening your web browser and Googling "dutch oven" like I had to do...

Once you realize it's basically a large pot... Pour olive oil into the large pot, heat on medium.

Take the onions and sauté until translucent, about 5 minutes. One bonus tip... we usually bake our Thanksgiving turkey over rings of onions to allow heat to get underneath. If you do the same, save those suckers for this portion.

Grab the curry powder and slowly sprinkle over the onions. Or just slam them in. Whatever you prefer. Stir and get the smells going!

Add sweet potatoes, veggie broth, and turn up the heat.

Once boiling... take the temp back down to medium/low and give those ingredients a nice bath. The mixture should reduce and become one nice looking soup!

Take an immersion blender and give them a swirly. You can now add the moo moo juice (also known as milk).

Spoon into a bowl, add greek yogurt and cilantro, and dip the sandwich melt into this sweet tasting goodness.