About Erika Gruszewski
Posts by Erika Gruszewski
Confession: I've never been a big pancake fan. But then, I made this pumpkin pancake recipe. These pancakes are so fluffy and full of the comforting flavors we love in the fall. I've officially become a pancake lover (as long as it is these pancakes). Print Recipe Pumpkin Pancakes Prep Time 20 minutes Servings pancakes…Read More »

I've been there. Worried about too many calories or too much sugar, I ordered a diet soda, feeling a little bit better about my healthier choice. I've heard that regularly drinking soda (or "pop" as I've learned it's called in Western NY) has health risks like increasing the risk for type 2 diabetes, heart disease,…Read More »

Breakfast should never be boring. If you're in a morning rut, try one of these better breakfast recipes to brighten your day. Still hungry? Check out Five Pumpkin Breakfast Recipes for Fall.
Why try? Avocado toast is easy to prepare and can be made sweet or savory. This breakfast contains fiber plus healthy fat from the avocado. Print Recipe Avocado Toast Prep Time 5 minutes Servings person Ingredients 1 slice bread of choice whole grain preferred1/3 ripe avocado mashed1 dash salt and pepper Prep Time 5 minutes…Read More »
Why try? To prepare overnight oats, the oats are soaked overnight instead of heated. The result is a creamier, denser, and more delicious (in my opinion) oatmeal that is ready to grab-and-go in the morning. This oatmeal is high in protein and fiber, too! Print Recipe Overnight Oats Prep Time 20 minutes Servings person Ingredients…Read More »
Why try? Cloud eggs are a protein-packed breakfast that can add some fun to your average morning or some "wow" to your Sunday brunch. Print Recipe Cloud Eggs Prep Time 15 minutes Cook Time 15 minutes Servings people Ingredients 4 large eggs1/4 cup Parmesan cheese1 dash salt and pepper Prep Time 15 minutes Cook Time…Read More »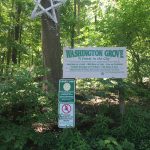 What's the secret? A "forest in the city," Washington Grove is a unique, oak-hickory forest. It's located on the eastern edge of Cobbs Hill Reservoir in Rochester, New York. The park is a grove of giant old trees that transports visitors into a quiet, secluded woodland. Here, it's easy to forget how close you are…Read More »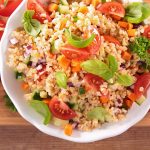 There are a lot of great things about the return of warm weather: more sunshine, more time outside, and of course, more fresh veggies. This quinoa salad makes the perfect addition to any backyard barbeque or porch picnic. Filled with a bright colorful mix of spring and summer veggies, you'll enjoy how easy this healthy…Read More »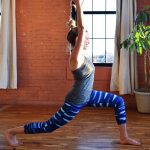 Nicole Kazimer is the founder of Hikyoga, a hiking-infused yoga class in Rochester. Born and raised in Webster, NY, Nicole is a certified yoga instructor whose Hikyoga journey began when she started to teach her friends yoga at a Rochester park. Upstate New York has so many amazing hiking trails, making it the perfect place…Read More »
These energy bites make the perfect snack or healthier dessert. Packed with protein, fiber and flavor, these will satisfy your hunger and your sweet tooth.